Raise a Floppa - The Loop
Play Sound

Zorrose (玫瑰剑客; pinyin: méiguī jiànkè) is a Monthly special plant in the Chinese version of Plants vs. Zombies 2. He rapidly attacks zombies with his thorn sword at a close range of 1.5 tiles. When the target's HP is higher than 30%, his stabs the target every 0.7 seconds on average (slower than Bonk Choy). When the target's HP is lower than 30%, his charges before attacking, which makes his attack every 1.4 seconds. However, the damage he deals will be three times as high as before.
Puzzle Pieces for this plant can be collected through daily sign-in reward for Android users in July. He was released in the Sky City update for iOS, along with Magic-shroom and Bambrook. However, recently he is available for the second daily sign in gift.
Between v2.4.0 and v2.5.0 updates, Zorrose was put as a plant from the Renaissance Age rather than a monthly special plant.
Zorrose in Plants vs. Zombies Online is only used in Adventure Mode. The only way to obtain it is by collecting 240 puzzle pieces.
Origins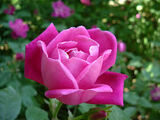 Zorrose is based on the China rose (Rosa chinensis), a rose native to Southwest China in Guizhou, Hubei, and Sichuan Provinces. However, his name, attack pattern, costume, and costumed Plant Food effect are references to Zorro, a Mexican legend.
His weapon, which is also known as its sword may resemble the thorn which could be found in the stem of a rose.
His Almanac entry hints that Zorrose's name is Van Gogh, which is a reference to the famous artist Vincent van Gogh, as he claims "Versailles" is his first name and "Gogh" is his last name. When the first and the last words of this name in Chinese are put together, a name pronounced the same as Van Gogh in Chinese (凡高 to 梵高) can be produced. The painting of Sunflower mentioned in the entry is also a reference to Van Gogh's Sunflower paintings.
Almanac entry
玫瑰剑客

Zorrose

玫瑰剑客可以攻击接近的僵尸,并对低生命的僵尸发动强力攻击。

特点:对生命值很低的僵尸发动强力攻击。
植物特征:红色植物、武艺高强
这名来自遥远东方的神秘剑客自称为凡尔赛·高,他在酒馆里喝酒的时候总是吹嘘自己是一名超越时代的艺术家。"这些粗鲁的家伙根本无法理解我想表达的东西!"他总是如此愤愤不平地说道,"那位著名的歌手向日葵,我曾经给她画过一幅划时代的画像,但是她居然宣称我画的是垃圾!这可是我唯一一幅除了玫瑰之外的画像!我还特意在画的下面签上了自己名字的缩写,我敢打赌光凭这个签名就足以使这副画成为无价之宝……嗝~"
玫瑰剑客 (Zorrose)
Sun cost: 225
DAMAGE: Heavy
RANGE: Close
RECHARGE: Mediocre
玫瑰剑客可以攻击接近的僵尸,并对低生命的僵尸发动强力攻击。
特点:对生命值很低的僵尸发动强力攻击。
植物特征:红色植物、武艺高强
这名来自遥远东方的神秘剑客自称为凡尔赛·高,他在酒馆里喝酒的时候总是吹嘘自己是一名超越时代的艺术家。"这些粗鲁的家伙根本无法理解我想表达的东西!"他总是如此愤愤不平地说道,"那位著名的歌手向日葵,我曾经给她画过一幅划时代的画像,但是她居然宣称我画的是垃圾!这可是我唯一一幅除了玫瑰之外的画像!我还特意在画的下面签上了自己名字的缩写,我敢打赌光凭这个签名就足以使这副画成为无价之宝……嗝~"
In English:

Zorrose attacks approaching zombies and launches a strong attack when they are at low health.

Special: Strong attacks on zombies with low hit points
Plant feature: red plant, martial arts

This mysterious swordsman from the far east calls himself Versailles Gogh. When he drinks in taverns, he always brags about being an artist to transend the ages. "These boorish guys simply can't comprehend what I'm trying to express!" He always says so angrily. "That famous singer Sunflower, I once painted her a ground-breaking portrait, but of course she said that what I had painted was rubbish! But this was my one and only portrait that wasn't of roses! I also deliberately signed my name at the bottom of the painting. I bet that signature alone is enough to make that painting a priceless treasure... Buuurrrp!"
Upgrades
Plant Food effect
When fed with Plant Food, Zorrose stabs zombies in a 3x3 area.
Costumed
After his normal Plant Food effect, he makes a "Z" symbol, which later explodes in a 3x3 area.
Level upgrades
Level
Upgrades
Description

Weakness Finding
寻找弱点
It gains 15% chance to deal double damage.

Combat Training
战斗训练
Zorrose gains 50% more attack power and health (150% of initial).

Consistent Heart
心眼如一
Chance to deal double damage is doubled (30% of initial).

Cell Activation
细胞活化
Zorrose gains another 50% more attack power and health (200% of initial).

Ability Awaken
能力觉醒
Zorrose may be boosted when planted.

Fighting Power
战斗能力
Zorrose gains another 50% more attack power and health (250% of initial).

Swordsman Flash
剑客一闪
Zorrose can sometimes attack 4 lanes in front of it.

Fighting Power
战斗能力
Zorrose gains another 50% more attack power and health (300% of initial).
Strategies
This plant is best used with a defensive plant to safely deal high damage to zombies.
However, he is pretty much a downgrade of Bonk Choy being the latter but slower, costlier and can not attack behind. It is not recommended to upgrade him as they are very weak and there are better options to upgrade,
Gallery
Plants vs. Zombies Wiki
has a
gallery
for Zorrose.
Trivia
In the 1.6.0 update, he, along with Magic-shroom, gained their own unique sounds.
The petal effect he uses is similar to Petal-Morphosis.
Despite being a Renaissance Age plant between v2.4.0 and v2.5.0, his Almanac entry still showed the Modern Day/Monthly Special background. He also isn't present in the world's preview.
Prior to the 2.8.4 update, he couldn't deal any damage apart from his Plant Food Ability due to a coding error.