Roblox: DeepWoken - The Loop
Play Sound

Zombot 1000 is a premium legendary zombie card in Plants vs. Zombies Heroes and a member of the

Beastly class.
It costs 9

to play and has 9

/9

. It does not have any traits, and its ability instantly destroys all plants on the field when it is played.
Origins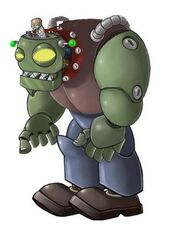 Its design is mostly based on the original Zombot in Plants vs. Zombies, though this one features a completely enclosed cab. Its ability references the fireball attack unleashed by the zombot, which can crush any plants in the way.
The actual body of the original Zombot is unseen, so it is more likely that it is based on the Zombot that can be seen in the Plants vs. Zombies: Garden Warfare 2 maps, Zombopolis and Z-Tech Factory.
Its description may be implying that it is the 1000th Zombot made, hence why it is called the Zombot 1000.
Statistics
Class: Beastly
Tribes: Science Gargantuar Zombie
Traits: None
Ability: When played: Destroy all Plants.
Set - Rarity: Premium - Legendary
Card description
The first 999 Zombots are now considered classics.
Update history
Update ???
Tribe order change: Gargantuar Science → Science Gargantuar
Strategies
With
Zombot 1000 looks like it is an amazing finisher to due its high stats and ability. But in reality, it is very unreliable due its high cost and slow ability.
Using Zombot 1000 as your finisher is not a good idea because most games will not make it to turn 9, and even if they do, Zombot 1000's ability isn't really game-winning or viable as a finisher because of the way turn order works (unless the opponent ran out of cards). And considering how expensive it is, it cannot be used as a support card or anything but a finisher as it leaves you with no brains for an ability that can be countered by blocking its lane with a weak plant and playing a strong one in another lane to finish the game.
If you have Immorticia, it may seem like a good plan to create a Zombot 1000 + Teleport combo, but this means you must delay your game even further than turn 9 to play the combo when there are cards and decks that can finish the game by turn 6, and chances are you will not get both cards at the same time, unless you are running other cards as win conditions. Brain Freeze is safer, as he can play the Cursed Gargolith to conceal the Zombot 1000 each turn. Provided if the opponent fails to counter itself or the gravestones, any plant made will be destroyed in the tricks phase next turn, although even that isn't reliable.
Overall, Zombot 1000 can be considered a "fun" card, having an interesting use and some wild combos that don't really work in a competitive standard, and leaving aside these setups, it is really lacking and underwhelming by itself, as it is incredibly expensive with an ability that doesn't do much to help you win the game because of how the game works. If you are in the look for a decent beastly card, then it's a lot better to craft Interstellar Bounty Hunter and/or Supernova Gargantuar, both which are half as expensive as Zombot 1000 with far better uses and stats.
Against
In general, the most effective method is to defeat the opponent with rush decks before it can be played. This can be easily accomplished with aggressive decks (Or really any deck that isn't a poorly-made control) that can apply tons of pressure in early turns, turning Zombot 1000 into a brick for the whole match.
Audio
| Sound | Description |
| --- | --- |
| | Played |
| | Idle |
Gallery
Plants vs. Zombies Wiki
has a
gallery
for Zombot 1000.
Trivia
In the beta version of the game, the satellite dish on its head was layered incorrectly and appeared behind the antenna.
Its ability animation is very similar to Zombot's Wrath and the Zombot in Plants vs. Zombies, as all three shoot fireballs to harm plants.
It has the highest base strength stat of any fighter in the game without the help of any traits or abilities.
If you listen closely, its ability animation uses the same sound effects as Astro-Shroom's ability.