Zombot 1000 is a premium legendary zombie card in Plants vs. Zombies Heroes and a member of the

Beastly class.
It costs 9

to play and has 9

/9

. It does not have any traits, and its ability instantly destroys all plants on the field when it is played.
Origins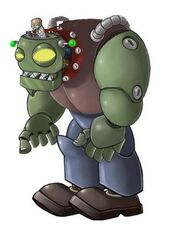 Its design is mostly based on the original Zombot in Plants vs. Zombies, though this one features a completely enclosed cab. Its ability references the fireball attack unleashed by the zombot, which can crush any plants in the way.
The actual body of the original Zombot is unseen, so it is more likely that it is based on the Zombot that can be seen in the Plants vs. Zombies: Garden Warfare 2 maps, Zombopolis and Z-Tech Factory.
Its description may be implying that it is the 1000th Zombot made, hence why it is called the Zombot 1000.
Statistics
Class: Beastly
Tribes: Science Gargantuar Zombie
Traits: None
Ability: When played: Destroy all Plants.
Set - Rarity: Premium - Legendary
Card description
The first 999 Zombots are now considered classics.
Update history
Update ???
Tribe order change: Gargantuar Science → Science Gargantuar
Strategies
With
In most cases, this card is not a good card due to the fact that when this is played on turn 9, the plants can use their 9 sun to make a high-damaging combo in different lanes and you will have no brains left to defend because you spent all 9 on the Zombot 1000. However, there are a few usable strategies with this.
Immorticia is by far the best zombie hero to use Zombot 1000 with, as she as access to Teleport and Teleportation Zombie. When played with help from one of those cards Zombot 1000 turns from a bad card into an amazing card as it will destroy all the plants the plant hero played that turn. Immorticia also has access to Cryo-Brain which will allow the teleport Zombot combo to be played earlier. However, it should be known that Brainana, Forget-Me-Nuts and Dark Matter Dragonfruit (if Teleport is used) can easily destroy this combo, and your teleportation zombie can be destroyed before you have a chance to play the Zombot.
Brain Freeze has access to Graveyard, which is similar to teleporting it in, as before the zombie tricks stage it will hide in a gravestone and then destroy all plants in the field. Brain Freeze also has access to Mixed-up Gravedigger and Cursed Gargolith which will reactivate zombot's ability. However, this strategy dies extremely badly to Grave Buster, Blockbuster, Grave Mistake, and the Cool Bean + Winter Squash combo.
The Smash and Electric Boogaloo are weaker heroes to use Zombot 1000 with. The Smash can use Gargologist to play Zombot at turn 7 but the same problem described above prevails. Electric Boogaloo has no synergies with this card and therefore should not use Zombot.
Against
In general, the best strategy is to win before this card can be played. If this is played without the use of teleports, attempt to punish the weak play by going for a big damage combo on a different lane. If you suspect your opponent may be trying to teleport this in, playing Brainana or anti-trick cards (if they are trying to use the Teleport trick) can prevent or slow down their play.
Audio
Gallery
Plants vs. Zombies Wiki
has a
gallery
for Zombot 1000.
In other languages
| Language | Name | Description |
| --- | --- | --- |
| English | Zombot 1000 | |
| Simplified Chinese | 僵尸机器人1000型 | |
| Traditional Chinese | 殭屍機器人 1000 | |
| French | Zombot 1000 | |
| German | Zombot 1000 | |
| Italian | Zombot 1.000 | |
| Japanese | ゾンボット1000 | |
| Korean | 좀봇 1000 | |
| Brazilian Portuguese | Zumbô 1000 | |
| Russian | Зомбот-1000 | |
| Spanish | Zombot 1000 | |
Trivia
In the beta version of the game, the satellite dish on its head was layered incorrectly and appeared behind the antenna.
Its ability animation is very similar to Zombot's Wrath and the Zombot in Plants vs. Zombies, as all three shoot fireballs to harm plants.
It has the highest base strength stat of any fighter in the game without the help of any traits or abilities.
If you listen closely, its ability animation uses the same sound effects as Astro-Shroom's ability.