Raise a Floppa - The Loop
Play Sound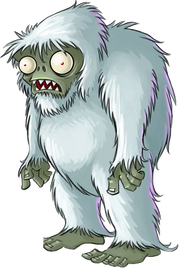 Zombie Yeti is a recurring character within the Plants vs. Zombies franchise.
In tower defense games, Zombie Yeti acts as a rare encounter that drops rewards for the player if they're able to defeat him. In the shooter games, he acts as an ice based boss.
As of Plants vs. Zombies 3, Zombie Yeti has appeared in five games while a similar counterpart, Treasure Yeti, has also appeared in five games.
History

In the original Plants vs. Zombies game, Zombie Yeti doesn't appear in the initial playthrough of the game's Adventure Mode campaign; instead Zombie Yeti appears in subsequent replays of the gamemode, always appearing in Level 4-10 but sometimes appearing randomly in other levels and outside the gamemode such as in Survival Mode.
When Zombie Yeti appears, he will slowly walk through the lawn for a short while before turning around in an attempt to retreat. If the player manages to defeat Zombie Yeti before he walks off the lawn, they will be rewarded 5 diamonds (4 upon repeat encounters).

Rather than having Zombie Yeti, Plants vs. Zombies 2 has the Treasure Yeti, who is similar in concept. Currently in the International version of the game, Treasure Yeti appears only in Arena, Penny's Pursuit, and certain Epic Quests, absorbing 720 damage per shot before being defeated.
Prior to version 5.7.1, the Treasure Yeti would appear in a random level in a random world once a day, the only exceptions being boss or Gargantuar levels. He only absorbed 680 damage per shot and would drop a lunchbox when defeated, which would either have 1,000 coins or a Key (before the 1.7 update).

The Chinese version is also different, only appearing in the Daily Challenge. Like older international versions, he absorbed 680 damage per shot, but would instead drop a money bag consisting of 500 coins or a costumed Puzzle Piece when defeated.
Each version of the Treasure Yeti attempts to leave the lawn when it gets far enough to the left like the Zombie Yeti in the first game, has costumes for appearing in Ancient Egypt, Pirate Seas, and Far Future, and could be stunned by E.M.Peach due to being a robot (but is also susceptible to Chili Bean and Stunion's gas stun).
There are a variety of Yetis in the shooter series, the most in a single game being 4 in Plants vs. Zombies: Garden Warfare 2.
Yeti Zombie
Yeti Zombie is a boss present in all three shooter games. Yeti Zombie is a fast boss whose main attacks all inflict chill onto plants, the exception being the Yeti Claw added to their moveset in Garden Warfare 2. While Yeti Zombie typically uses ranged icicles, he can also release a freezing blast around plants if they get too close to him.
The Super Yeti wave in Garden Warfare makes Yeti Imps and Arctic Troopers frequency appear with him and in Garden Warfare 2, makes Arctic Troopers, AC Perries, and Goalie Stars frequency appear.
During the Elite Wave in Battle for Neighborville, his battle is similar to The Yeti King's battle in Garden Warfare 2. At first, he will only take 1 damage from every attack. The plants will need to defeat a few Yeti Imps before an elite Imp called "Ragnorimp" appears, who must be defeated and have their Pjölnir stolen in order to inflict damage, with the plant who grabbed the item and plants near them dealing 360 to Yeti Zombie per attack for 30 seconds before the cycle resets.
Treasure Yeti

Treasure Yeti also reappears in the shooter series, first appearing in an update for Garden Warfare. They're a boss zombie which appears during rare Garden Ops events or in the Backyard Battleground (Garden Warfare 2) or any free-roam region (Battle for Neighborville).
Treasure Yeti's only attack is the freezing ice blast Yeti Zombie also has, as they will run around the map, attempting to avoid attacks from plants. Whenever they are attacked, they will drop coins and explode into a large number of coins when defeated, but will dig underground if not defeated in time or left alone for too long.
There is a singular Treasure Yeti that will not despawn until defeated, the Treasure Yeti that appears in the "I Treasure You" quest given by Tenderleaf in Town Center in Battle for Neighborville. This Treasure Yeti is a champion that is fought multiple times in the quest, holding onto control pads that are holding other Acorns hostage. Its Cool Bling is obtained when the quest is beaten to be added to the Mindblower.
Sasquatch

Sasquatch is a boss that exclusively appears in Garden Warfare 2's Boss Hunt mode. Sasquatch's attacks are nearly identical to Yeti Zombie's, except they have a fire effect instead. However, Sasquatch has much more health than Yeti Zombie and has phases dependent on how much damage he has lost.
Every time Sasquatch loses a quarter of his health, he summons healing burgers that will restore his health by 1/8 if not destroyed in time, summoning 5 at the first quarter, 7 in the second, and 9 in the third and fourth. If this phase is successfully completed, the plants must reach a garden in 40 seconds or else they'll be instantly defeated by a Hunger Pang's Inferno attack from Sasquatch.
Unlike most bosses, Sasquatch's health gets lower the higher his difficulty is, having 32,500 health on Normal and only 24,500 on Epic or CRAAAAAZY!
The Yeti King
The Yeti King is another Boss Hunt only boss in Garden Warfare 2, though The Yeti King made a cameo in Great White North prior to his boss fight, where the zombies had to free him from ice. The Yeti King's attacks are like Yeti Zombie's, as his difficulty comes from the Boss Hunt phases instead.
Shortly after spawning, he will begin to dance, making him stay in place, but immune to attacks and hurting plants who touch him, knocking them back as well. Popsicles start to appear around the map, which have to be destroyed within the time limit or else all the plants will be instantly vanquished. After this, the plants must wait out for the Yeti King's Jester, a champion Imp with a jester's hat to appear in order to defeat them, drink the "King's Zlurpee", and spend the following 30 seconds attacking The Yeti King with a heavy damage boost before the cycle repeats.
The Yeti King has the highest health of any zombie in the game, with his Epic/CRAAAAAZY! variant having 310,000 health.

Treasure Yeti was the boss of American Suburbs - Day 5 in the Chinese-exclusive turn-based game Plants vs. Zombies: All Stars. Despite the name, Treasure Yeti resembles Zombie Yeti more, not having mechanical parts when defeated and using snowballs to attack, similar to Yeti Zombie in the shooter series.
During the Jam Hsiao event, he was replaced by Jam Hsiao instead.

Zombie Yeti also appeared in Plants vs. Zombies Heroes. In this game, Zombie Yeti is a Premium Super-rare in the

Beastly class. He costs 3

to play, has 3

/3

stats and is a member of the Pet and Monster tribes.
Zombie Yeti has two abilities, creating a Yeti Lunchbox when played and at the end of the turn, the Bounce would occur on himself. The Yeti Lunchbox is a Gourmet Pet Trick that costs 1

and gives a zombie +1

/+1

.

Brain Freeze is a Zombie Hero based off Zombie Yeti, being the

Sneaky and

Beastly classes. Brain Freeze's superpowers are Dolphinado, Acid Rain, Galvanize, and his signature superpower, Frozen Tundra, which freezes all plants on the ground.
Gallery
Plants vs. Zombies Wiki
has a
gallery
for Zombie Yeti.
Trivia
Despite being organic in Plants vs. Zombies, Yeti Zombie in the shooter series explodes into mechanical parts. A similar problem occurs with Treasure Yeti in Plants vs. Zombies: All Stars, appearing organic even though it normally is mechanical.
Zombie Yeti had his very own Facebook game. In some pictures of the game, Snorkel Zombie, Sun-shroom, and Coffee Bean also appeared. However, it was taken down for unknown reasons.
Zombie Yeti costume is available on the Xbox Live Marketplace for 320 Microsoft points.
V ·

T

· E

Recurring characters