For other uses, see Browncoat Zombie (disambiguation).
Zombies are the most basic of all the "zombie" units. Having no special defensive equipment or travel abilities, these zombies are susceptible to any type of attack and are slow to approach the player's house. They are found in most levels and are the first zombies the player encounters.
At the official start of a level, a siren noise will appear and one (an anonymous voiceover) will say "The zombies... are coming...", subsequently followed by a moan, signaling that the zombies are about to come. The Conehead Zombie, Buckethead Zombie, Screen Door Zombie, and Trash Can Zombie become this zombie when their armor is destroyed.
About
The Zombie is the most common zombie in this game, but he's the second weakest zombie, the first being Imp in I, Zombie. However, he is the weakest in normal gameplay. It takes four steps for the zombie to reach one tile of the lawn to the next. Almost every level starts with a normal zombie. The only levels that don't are Pogo Party (Pogo Zombie), Bobsled Bonanza (either Zomboni or Zombie Bobsled Team), Air Raid PC (Balloon Zombie), Column Like You See 'Em (Flag Zombie) and possibly Wall-nut Bowling and Wall-nut Bowling 2 (Buckethead Zombie or Conehead Zombie)
While they can't become typical Zombies, Flag Zombie and Ducky Tube Zombie are effectively this Zombie, Flag Zombie moving slightly faster while Ducky Tube Zombie is an aquatic variant with their own variants.
Zombie
Regular Garden-variety Zombie
Toughness: low
This zombie loves brains. Can't get
enough. Brains, brains, brains, day in and
night out. Old and stinky brains? Rotten
brains? Brains clearly past their prime?
Doesn't matter. Regular zombie wants 'em.
 (China only)  (Archived content)
庶民僵尸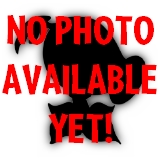 庶民僵尸
强度: 低

这样的庶民气质是不是让你想到了普通僵尸?是的,他是普通僵尸在西行路上的远方表亲。这一族都是忠实的脑髓追求者。
In English:

Commoner Zombie

Commoner Zombie
Toughness: low
Does his common-or-garden appearance remind you of Zombie? Yes, he is Zombie's distant relative on the journey to the west. Their family are all loyal brain-lovers.
Overview
The zombie absorbs 200 damage per shot; his appearance changes upon absorption of 100 damage per shot when the left arm falls off, before dying.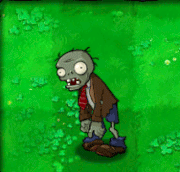 Encounters
Every level except for ZomBotany, ZomBotany 2, Zombiquarium, Homerun Derby, Air Raid, Ice Level, Three Hit Wonder, All your brainz r belong to us, and I, Zombie Endless
Strategies
In a standard Adventure or Survival Mode level, Zombies will be the first to appear and will start the assault in approximately 20 seconds or the time it would take the player to plant three Sunflowers (or Sun-shrooms), as measured during a daytime (or nighttime) level. They can be killed by planting a Potato Mine three spaces away from the zombie, purchasing the Garden Rake from Crazy Dave's Twiddydinkies, or planting relatively cheap offensive plants like Peashooters or Cabbage-pults. For Night levels, you can use mushrooms, like Puff-shrooms and Scaredy-shrooms. One Puff-shroom, despite its short range, will be able to take a single zombie out on its own. However, repeated attacks may be able to kill the Puff-shroom. The Tangle Kelp provides an aquatic Potato Mine-style plant in Pool levels, except only one zombie can be killed per Tangle Kelp. For dealing with large volumes of zombies, more expensive additions such as the Torchwood and Melon-pult are available, in addition to instant kills such as the Jalapeno, Cherry Bomb and Doom-shroom. Some plants, such as the Repeater and the Fume-shroom, can be upgraded to increase efficiency and give them new abilities. Zombies can eat your plants and brains, where it is then the player loses the level and try or start that same level again if it does eat your brains (the same also applies to other types of zombies). Any offensive plant can kill one of them, except when planted right in front of them. Two Spikeweeds or a Spikerock will be enough to kill a regular zombie 90% of the time, but because of slight speed variations, the player may need three Spikeweeds or a Spikerock and Spikeweed to kill them.
I, Zombie
Due to its low health, Zombie should only be placed in lanes where there are no offensive plants, or as a backup to other zombies. However, if there is only a Peashooter in the closest lane or only a Spikeweed, then the zombie will still be able to make it past. It can also be used to set off a Potato Mine or to get eaten by a Chomper to deal with them as cheaply as possible.
Related Achievement
Gallery
Plants vs. Zombies Wiki
has a
gallery
for Zombie.
In other languages
Language
Name
Description
English
Zombie
Simplified Chinese

普通僵尸




庶民僵尸

in Plants vs. Zombies: Great Wall Edition
Traditional Chinese

普通殭屍

French
Zombie
German
Zombie
Italian
Zombi
Japanese

ゾンビ

Russian

Зомби

Spanish
Zombi
Trivia
At the start of the level, the player can hear a zombie mutter, "The zombies...are coming...", and growl. This could mean that the zombie still remembers a small part of human speech. However, it is unknown if the zombies themselves are saying this or simply an anonymous narrator, leaving this debatable.
Zombie is the first zombie the player encounters.
Zombie is the only zombie to be used as a weapon for the Gargantuar.
If any zombie that can degrade to this zombie is killed by an explosive after losing its arm but before losing its head, its lost arm will regrow before it falls into a pile of ashes. The only exception to this is the Ducky Tube Zombies in the pool, which will just disappear instead.

However, if a Ducky Tube Zombie is blown up before he enters the pool, he will turn into ashes like a normal zombie.

Most zombies can absorb a few extra damage shots after being decapitated.
Occasionally, when a zombie dies and his head falls off, he will start to stumble back and forth, shaking a fist in the air, then fall over. The same also happens to a Ducky Tube Zombie if he is slain before entering the pool.
A Zombie Mask is available in the Xbox Live Marketplace for 160 Microsoft Points.
Zombie shoes are available in the Xbox Live Marketplace for 160 Microsoft Points, which are the plain brown shoes that the normal zombie wears.
A Zombie T-shirt is available in the Xbox Live Marketplace for 80 Microsoft Points. It is white and has a normal zombie head on it.

The zombie has two idle animations, he may tilt left to right or move his head up and down. They also sometimes stick their tongues out, making a total of four idle animations.
In the online version, when a zombie loses its head and is then hit by an explosive, it regrows its head before burning. However, when a zombie in any other version is burnt without its head, it will fall off unburnt while the body will turn black and disappear after a couple of seconds.
There is a glitch in the Nintendo DS version where any zombie that can degrade to this zombie (not including Ducky Tube Zombies) will continue to walk after losing its head until it takes a certain amount of damage before falling over. The number of hits varies, depending on what they degraded.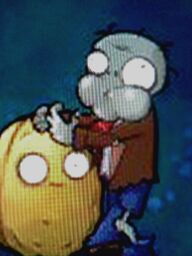 If a zombie has his tongue sticking out and has to stop and eat a plant, his tongue will disappear, but after he stops eating, the tongue will reappear. The exact reason is that all zombies have one eating animation, and the zombies do not include his tongue.
On the Console and PS Vita versions of Plants vs. Zombies, a zombie may die with a bloated mouth, his eyes staring at the sky, and not losing his head, upon attempting to eat a Wall-nut or Tall-nut.
In December, on iOS and Android versions, this zombie sometimes wears a Santa hat, but only if Festive Mode is turned on.
If a hypnotized zombie has lost its arm, it loses its right arm instead of its left arm due to the appearance of a hypnotized zombie being a reflection of its normal state.
There is a glitch in the Nintendo DS version where if a zombie is killed with the Garden Rake, its left arm will disappear without falling off. In all other versions, however, its arm will be retained.
If a zombie is eating a defensive plant, such as Wall-nut, Tall-nut, or Pumpkin, the biting noise will be quieter than if it was eating any other plant.
A zombie has a rare chance to move slightly faster than normal, which allows it to eat a Puff-shroom on its own.