Template:ProfilePic2
ZomBotany 2 is the seventeenth mini-game in Plants vs. Zombies, Plants vs. Zombies: Journey to the West, and Plants vs. Zombies: Great Wall Edition. It is a more challenging and difficult version of ZomBotany. It is mainly known for the plant and zombie hybrids. Unlike its predecessor, the events of ZomBotany 2 unfold in a Pool setting instead of a Day setting.
All ZomBotany Zombies also have the Ducky Tube versions, with the exception of Squash Zombie.
Icons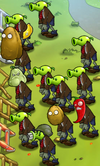 Strategies
Main article: ZomBotany 2/Strategies
Suggested plants
Gallery
Videos
Trivia
See ZomBotany for more trivia.
If the player hypnotizes a Peashooter Zombie or a Gatling Pea Zombie, it will still shoot at his or her plants through the back of its head. However, it will eat other zombies.

If the player hypnotizes a Jalapeno Zombie, it will explode once it leaves the screen and destroys the player's plants, despite being a friendly comrade.

It and Air Raid both use Gatling Pea and they can still be accessed without buying it from Crazy Dave's Crazy Dave's Twiddydinkies.
Despite having about the same health as a Gargantuar, a Tall-nut Zombie can be instantly defeated by a Chomper. A Cherry Bomb, Jalapeno, Doom-shroom, Squash, or Potato Mine will cause 90 damage but will not completely kill it. It also share this with the giga version of Football Zombie.

When a Cherry Bomb, Jalapeno, Doom-shroom, Squash, or Potato Mine try to instant kill it, its head will not have any degrades, despite losing 90 health.

Even though freezing Peashooter Zombies with Ice-shrooms or butter prevents them from shooting peas, slowing them down with Snow Peas, Winter Melons, or the residue left behind by Ice-shrooms do not hamper that ability.
Editing this mini-game's data file (32.dat) to a separate file makes ambush zombies appear in the pool. These ambush zombies are always Ducky Tube normal Zombies.
Apparently, the zombies' instant kills are stronger than that of the plants' instant kills, since the Squash Zombie can kill the Tall-nut in one hit while the plant Squash requires two hits to kill the Tall-nut Zombie. There are exceptions, like the Jalapeno and the Jalapeno Zombie.
In the iPad version, the Gatling Pea Zombie's head looks as the kind of floating off the body, with a stem supporting the head.
In the icon for the iPad version, it shows a Jalapeno Zombie and a Gatling Pea Zombie at night, though they do not appear in that stage anywhere.
According to LawnStrings, this mini-game's original name was going to be War and Peas 2, with "War and Peas" mostly likely being a pun on "War and Peace."

A box with the words "War and Peas" is visible in Crazy Dave's Twiddydinkies.

In the iPhone and Android icon for this mini-game, it has Gatling Pea Zombie instead of Peashooter Zombie on it.

Gatling Pea Zombie also has a visible stem where the neck is and has no eyebrows.

Upon restarting many times, there is a chance that Jalapeno Zombie will not appear.
See also
How would you rate ZomBotany 2's difficulty?