No Man's Sky Update - The Loop
Play Sound

Zom-Bats are a token zombie card in Plants vs. Zombies Heroes and a member of the

Brainy and

Beastly classes. They can be made by Witch's Familiar, Immorticia's signature superpower. They cost 3

to play (only when they are Bounced or Conjured) and have 2

/1

. They have the Amphibious trait, and their ability draws a card every time they do damage to a plant.
Origins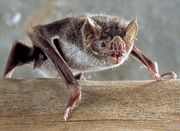 They are based on bats, mammals of the order Chiroptera with their forelimbs adapted as wings.
Their name is a portmanteau of "zombie," referring to the side they are on, and "bats," the real-life animals they are based on.
Statistics
Classes: Brainy, Beastly
Tribe: Pet Zombie
Trait: Amphibious
Ability: When this hurts a Plant, draw a card.
Set: Token
Card description
Like Chihuahuas with wings... and fangs... and a taste for Plants.
Update history
Update 1.4.14
▼

Health change: 2 → 1
Update 1.22.12
▲

Trait added: Amphibious
Strategies
With
Zom-Bats can essentially be seen as an early-game Kite Flyer, trading survivability with a little more strength. Any basic strategies about drawing cards with Kite Flyer should apply to Zom-Bats too, although they will not be able to survive one attack due to their low health. You could play them in front of a plant with no strength like Torchwood or Wall-Nut, as Zom-Bats will be able to land a free strike on that plant without being destroyed, but this is only a temporary solution due to the majority of those plants having Team-Up; boosting this zombie should be the primary tactic.
Since they are a pet zombie, they can be used with Cat Lady and Zookeeper for some synergy, and because Immorticia's superpower is a pet trick as well as Zom-Bats themselves, these zombies can activate their ability twice.
Against
Zom-Bats are no threat by themselves, but their ability proves them a bit annoying, since your opponent will draw a card if Zom-Bats faces combat against a plant. Do not play any plant that can't fight back to block this zombie (with the exceptions of Potato Mine, Primal Potato Mine, and Hothead), as they will just give your opponent free cards. Also, unless Zom-Bats are boosted, refrain from playing an overly strong one as well, as it will just be a perfect target for a potential Rocket Science.
If you don't want Zom-Bats to give your opponent a card, remove them with a simple damaging card like Banana Bomb or Berry Blast, or Bounce them. While you could just take those hits yourself and stall since Zom-Bats' ability does not activate if they hurt you, things could go south quickly if you don't keep track of your health or if your opponent decides to boost Zom-Bats.
AI opponents will usually play this immediately if they have it, even if you don't play any plants, which effectively wastes it, as you can usually easily destroy it in the next turn.
Gallery
Old
In other languages
Language
Name
Description
English
Zom-Bats
Simplified Chinese

僵尸蝙蝠

Traditional Chinese

殭屍蝙蝠

French
Chauves-zombies
German
Zombie-Fledermäuse
Italian
Zomb-pipistrelli
Japanese

ゾンバット

Korean

좀 박쥐

Brazilian Portuguese
Morzegos
Russian

Летучие мыши

Spanish
Murciélagos Zombi
See also