For the Yeti Imp in Plants vs. Zombies 2, see Imp. For other uses, see Yeti.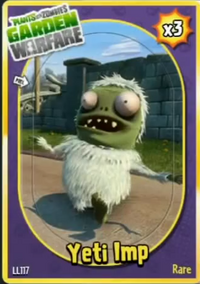 Yeti Imp is an Imp variant in Plants vs. Zombies: Garden Warfare. It only appears with the Treasure Yeti in the Super Yeti wave in the Brain Freeze special wave in Garden Ops or as a Spawnable Zombie in Gardens & Graveyards. They explode upon contact, just like their other variants in Plants vs. Zombies: Garden Warfare. However, the Yeti Imp's explosions chill the player. Its attack is Snotcicles.
Description

Warm and fuzzy, these Imps just want a hug. Unfortunately, hugging makes them ice explode from joy.
Health
A Yeti Imp absorbs 12 damage hit-points.
Gallery
Trivia
Yeti Imp's model was shown in the Plants vs. Zombies: Garden Warfare Dev Diary for the PlayStation 3 and PlayStation 4 versions of Plants vs. Zombies 2.
It became a spawnable zombie in the Legends of the Lawn DLC.
If you look closely, you can see that the Yeti Imp is a robot, but you can only see this if you kill the Yeti Imp without it dealing any damage.
Its movement speed is equal to that of an Engineer riding a Jackhammer.
Community content is available under
CC-BY-SA
unless otherwise noted.