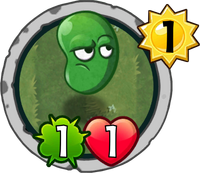 For other usages of beans, see bean.
Weenie Beanie is a basic common plant card in Plants vs. Zombies Heroes, and a member of the

Smarty class. Two of them can also be obtained as cards by Bean Counter. It costs 1

to play, and has 1

/1

. It does not have any traits nor abilities.
It is the basic plant of the

Smarty class.
Origins
It is based on a bean, a common name for large seeds of several genera of the flowering plant family Fabaceae.
Its name may be a combination of "weenie," referring to its size and description, and "beanie," an alteration of the word "bean" made to rhyme with "weenie." It could also be a reference to a fast food restaurant with a similar name, or a dish with a similar name.
Statistics
Card description
Prefers to be called "Vertically Challenged Beanie."
Update history
Update 1.2.11
Strategies
With
Weenie Beanie is probably one of the strongest cards in the game, at a cost of 1 providing pretty cheap stats, but having bean synergy attached to it. As such an early game card, you can combo it with things like Admiral Navy Bean and Lily of the Valley. And as an amazing finisher, you can combine its great power with Onion Rings and pull out a 4/4 Weenie Beanie for the cost of 1.
There are quite a few amazing strategies, but practically nothing can beat the powerful presence of the legendary Weenie Beanie in its amazing synergy. It's what makes it such a good card in the current meta game.
Against
Removal cards such as Locust Swarm, Rocket Science or even Smelly Zombies are highly recommended against this target. The plant hero that uses this the most is Green Shadow, so Rocket Science is a really good counter to Weenie Beanie.
Sometimes, some players misuse the power of the Weenie Beanie, so Weed Spray and Rolling Stone could be viable options, but it's very rare for that. You have to think smart about the hero you're fighting against to know how they will use the power of the Weenie Beanie. They could buff it to its highest with Onion Rings and Lily of the Valley. Citron could defend it and work with Admiral Navy Bean to take you down, which also means Weed Spray would be a pretty viable option there. You could also be facing a Nightcap using Weenie Beanies, which means he's preparing for a Weenie Beanie OTK deck (You use Berry Angry and a few supers to do this) or a Pineclone Deck. And for the last hero's strategy is Rose, which means she'll very likely use Weenie Beanies to a similar degree as to citron but using Weenie Beanie's legendary power with Freeze Cards, and decks that revolve around healing.
These are just things to watch out for while fighting Weenie Beanie.
Gallery
Trivia
Sea also
Community content is available under
CC-BY-SA
unless otherwise noted.