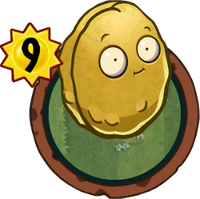 Not to be confused with Wall-nut Bowling, a mini-game from Plants vs. Zombies.
Wall-Nut Bowling is a premium legendary plant trick card in Plants vs. Zombies Heroes and a member of the

Guardian class. It costs 9

to play, and its ability makes a Wall-Nut on every ground lane, then does 6 damage on each of the zombies there. If a ground lane is not occupied by a zombie, the zombie hero takes damage instead.
Origins
Its name and ability comes from Wall-nut Bowling, a mini-game in Plants vs. Zombies. However, the Wall-Nuts here serve both offensive and defensive purpose at the same time.
Its card description refers to the special shoes used to play bowling in real life, since the bowling alley has slippery floors that normal shoes cannot walk on. In particular, the description mentions the fact that the shoes usually look less than pleasing to the eye.
Statistics
Class: Guardian
Tribe: Nut Trick
Abilities: Make a in each Ground lane. Attack for 6 damage in those lanes.
Set - Rarity: Premium - Legendary
Card description
Ugly shoes not required!
Update history
Update 1.16.10
▲

Sun cost change: 10 → 9
Strategies
With
If you manage to survive long enough to generate 9 sun, this trick can easily turn the tide to your favor because not only does this generate a Wall-Nut on every ground lane, protecting you and your plants from zombies (that survive the 6 damage), it also does 6 damage on each ground lane, doing huge damage to your opponent per empty lane and destroying all but the bulkiest zombies your opponent plays there.
The Wall-Nuts made can be used for not only reinforcing your defenses, but also as synergy for Mirror-Nut and Pecanolith. There are also synergies exclusive to each hero:
Certain plant missions may have a different number of ground lanes. If there are no ground lanes in a level, don't even bother bringing this card. On the other hand, bringing this card along if there are 4~5 ground lanes is highly recommended.
However, do note that Wall-Nut Bowling is countered hard by Gravestone zombies, who not only intercept the 6 damage, but also nullify it. While you can play Grave Buster on those zombies, you will have to make a lot more sun, 2 for each gravestone. Thus, if your opponent starts spamming gravestones on ground lanes in anticipation of this trick, play something else and conserve Wall-Nut Bowling for later.
Against
Try to cover the ground lanes because you can take up to 18 damage under normal circumstances (where there are three ground lanes), which is enough to finish you off, or severely weaken you so that another plant can defeat you. Since this trick will pretty much destroy any zombies played there (and those that do survive will fall easily to future attacks), it is recommended to use Gravestone zombies or shielding cards (to make your zombies invulnerable to the 6 damage) to basically waste the damaging ability.
The Wall-Nuts made are also quite hard to deal with. Weed Spray would be the best counter since it will destroy all of them, and before the Fight! phase, but if you don't have one, focus on the lane with the most offensive power and destroy the Wall-Nut there as quickly as you can with your strong (or
Deadly) zombies after the turn the Wall-Nut is made.
You can also delay this trick by using Ra Zombie, Turquoise Skull Zombie, or Defensive End.
Gallery
Plants vs. Zombies Wiki
has a
gallery
for Wall-Nut Bowling (PvZH).
Community content is available under
CC-BY-SA
unless otherwise noted.