Wabby Wabbo
is a music video made by
Crazy Dave
. Below is an excerpt of the blog post commenting on the video.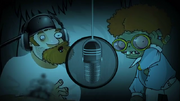 Crazy Dave is a talented dude. He started his own highly successful shop — Crazy Dave's Twiddydinkies — from the back of his car, effectively protected his brainz from the zombies by wearing a pot on his head and is a pioneer in the morticulture business.
Among his many talents, Crazy Dave is also an awesome musician — a rapper to be exact. Ded Jam Records recently discovered his hidden talent and immediately signed him to their record label. He's been in the studio for the past few months working on his debut single, Wabby Wabbo.
Remember the bling t-shirtwe showed you in Monday's post? Well, it was a little preview of what to expect in Cray-Z's first music video. We are excited to present you with the premiere of Cray-Z's debut single, Wabby Wabbo. Enjoy!
Below is the movie.
Wabby Wabbo has now been released as a Christmas single on iTunes with all proceeds going to the humanitarian charity Concern Worldwide.
For more information on the single and the charity, visit this website.
Cameos
Plants
Zombies
Others
Gallery
Trivia
The song's name comes from an onomatopoeia of one of Crazy Dave's idle speeches in-game, which vaguely sounds like "Wabby Wabbo."
Crazy Dave is referred to as "Cray-Z" in Wabby Wabbo.

This is an obvious pormanteau on "crazy" and the letter Z, which is frequently seen as a "hip" letter or a "cool" one associated with things such as the nicknames of rappers.

Crazy Dave technically mentions this song in Plants vs. Zombies 2 when Penny was asking Crazy Dave's "creation process" in the end of Day 25 of Pirate Seas.
Zombie Yeti's yodelling voice was reused by the Weasel Hoarder in the Frostbite Caves Part 2 trailer.
In both of the Kongfu World trailers, you can hear this song, it can be heard in the beginning.

On the radio it says "Crazy Dave.mp3."
Community content is available under
CC-BY-SA
unless otherwise noted.