Raise a Floppa - The Loop
Play Sound



Vine-nut is a conjectural name for this article.
If you know the official name or have a better name or
translation for it, please contact a wiki
administrator
to change it.
Vine-nut (藤蔓坚果; pinyin: téngwàn jiānguǒ) was a plant in Plants vs. Zombies: Social Edition. It damaged zombies that eat it and couldn't be jumped over.
About
Vine-nut was a premium plant based on the Tall-nut. It costed 250 sun. It had the same health as a Tall-nut and similarly couldn't be jumped over, but it could also damage nearby zombies similar to Endurian.
Almanac entry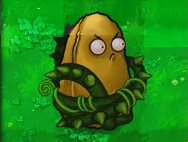 藤蔓坚果
藤蔓坚果不但不会被跳过,还能阻挡并杀
伤僵尸。
强度:非常高
特点:不会被跨过或跳过,对接近他的僵
尸造成伤害
大家一直在质疑高坚果和坚果的特殊关系,直到高坚果找到了属于他的藤蔓,这种谣
言才不攻自散。
In English: Vine-nut

Vine-nuts are nuts that can not only be jumped over, but will also block and damage zombies.
Toughness: very high
Special: can't be vaulted or jumped over, damages nearby zombies

Everyone had been questioning the special relationship between Tall-nut and Wall-nut, until Tall-nut found his own vine, the rumors were debunked.

Cost: 250
Recharge: slow
Gallery
Trivia
It is the only premium plant based on a defensive plant.
See also