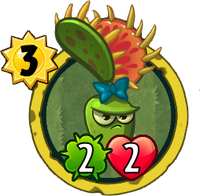 For other uses, see Venus Flytrap.
Venus Flytrap is a premium uncommon plant card and a member of the

Solar class. She costs 3

to play and has 2

/2

. She does not have any traits, and her ability heals the plant hero for the equal amount of damage she does. Her closest zombie counterpart is Nurse Gargantuar.
In the mini-boss battle of the mission A Hard Nut to Crack, Wall-Knight starts with a Venus Flytrap and a Wall-Nut on the second lane.
Origins

She is based on the plant in Plants vs. Zombies: All Stars with the same name, but with costume.
Her ability to heal as she damages is based on her All Stars appearance's Plant Food ability, which allows her to deal immense damage to a zombie and heal herself for half the amount of damage dealt.
Her description references how Venus flytraps leave their "mouth" open to eat their prey.
Statistics
Class: Solar
Tribe: Flytrap Plant
Traits: None
Ability: When this does damage, heal your Hero for that much.
Set - Rarity: Premium - Uncommon
Card description
"Mom always said, 'If you leave your trap open like that, you'll catch Zombies.' So I did."
Update history
Update 1.14.13
Set - Rarity change: Basic - Common → Premium - Uncommon
Strategies
With
Unfortunately, this plant is not very useful. Compared to other 3

cards, like Ketchup Mechanic, this is fairly subpar. With a 1

body and an ability that heals for a fairly small amount, this is not enough to be used seriously.
If you must use it, pair it with cards that strengthen this plant's

, like Cro-Magnolia (Solar Flare exclusive),Fertilize, or Pea Patch (Chompzilla exclusive). The latter option would work better since it can be played the turn before this card comes out. If you feel exceptionally cheeky, use it with The Red Plant-It for a massive stat boost and heal bonus. Use it with Pepper M.D., buffing it continuously for as long as this lives for. You can also use this to evolve Elderberry off of it, as many experienced players would usually not think to front it or remove it the turn it is played due to how weak it is.
Against
This card won't be as much of a threat as many new players think it is. If your opponent is running it, it's a good sign that they are running a heal deck. If they have a Pepper M.D. on the board, remove it immediately, since this plant will give it +2

/+2

continuously. It is more reliable to remove it with tricks, like Bungee Plumber or Rolling Stone. Other than that, it is mostly harmless.
Gallery
Old
Trivia
Multiple Venus Flytraps are featured in Venus Flytraplanet.
See also