Infomatic
| | |
| --- | --- |
| | This user, Double Dutch, is a member of the Ice Cream Authority. |
Magicwaterz's Thought
Magicwaterz

– Beware of anger meltdowns...




TALK

–

CONTRIBS

–

BLOG

Replayed the entire game again because old progress couldn't be retrieved said by EACSR. Changes I've noticed, nerfed pre-planted Lily Pads, nerfed Potato Mine, and BWB nerfed???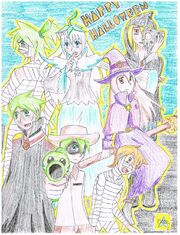 About me
I am Magicwaterz. I happen to be here to aid in the development in this wiki.
I also make a comic about PvZ in my deviantArt account that took place after the story of PvZ, though it is currently in hiatus.
My favorite plant of all is the Doom-shroom due to its color scheme and the way it is described in its almanac.
My favorite zombie is Jack-in-the-box Zombie because the way it shivers...
I also like to play certain platform games like Mario, Mario Kart, RPGs like Pokemon, Tower Defense games, and some PopCap games. The first three games were played on an emulator, I have yet to officially buy one.
Currently, I am working on a Tower Defense game done using Game Maker Studio: Standard.
This tower defense game is tentatively called as Legend of Encaderons.
Features ~46 Towers, more will be added if the layout changes.
It is still currently on its early stages, again.
Thanks PvZA
PvZ Games Standings
PvZ2 Endless Zones and Vaserbreaker Endless Current Standings
My Favorite Plants and Zombies
Plants
Zombies
My version of Plants vs. Zombies
I had a PC version of Plants vs. Zombies.
I had an account for Plants vs. Zombies Adventures.
I also have an Android version of Plants vs. Zombies 2.
Community content is available under
CC-BY-SA
unless otherwise noted.