h
hhhhhhhh
hhhhhhhhhhhhhhhhhhhhhhhhhhhhhhewwo hewww woo hewwww hhhhhhhhh
So,
User
, I guess you've found my userpage. Congrats or whatever. That's pretty shocking, I thought I'd go relatively unnoticed here.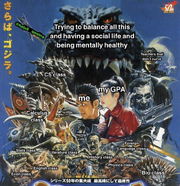 The name's LordHelix Lapis. (I want to change my username, but I already did it once before, so.) I usually hang around the forum and discussion threads, though occasionally I venture out to revert any terrible edits one might make on the mainspace.
I tend to have mood swings a lot, so don't be surprised if I start acting aggressive all of a sudden. Just thought I'd let you know.
Games I Play
PvZH. That's it; I gave up on the other games a long time ago.
Community content is available under
CC-BY-SA
unless otherwise noted.