About Me:
Well, here's one thing I want to ask you: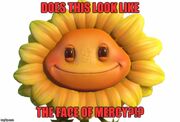 Does it? 
It does? Wow. Ok.
Well, anyway.... I HAVE NO IDEA WHAT TO SAY.
HERE'S WHAT I'LL SAY:
I like Chompers.
My favorite pages
Add links to your favorite pages on the wiki here!
Favorite page #2
Favorite page #3
My Plants vs. Zombies game(s)
Tell the other users on the wiki what Plants vs. Zombies games you have!
(Plants vs. Zombies, Plants vs. Zombies Adventures, Plants vs. Zombies 2, Plants vs. Zombies: Garden Warfare, Plants vs. Zombies: Garden Warfare 2)