Typical Beanstalk is a triassic uncommon plant card in Plants vs. Zombies Heroes and a member of the

Mega-Grow class. It costs 3

to play and has 3

/3

.
It does not have any traits, and its ability Conjures a leafy card when it is played on a lane adjacent to a leafy plant.
Origins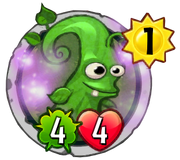 It is based on the plant in Plants vs. Zombies Heroes with a similar appearance.
Its name is a combination of "typical," referring to its description, and "beanstalk," the real-life plant part it is based on.
Statistics
Class: Mega-Grow
Tribes: Leafy Bean Plant
Traits: None
Ability: When played next to a Leafy Plant: Conjure a Leafy card.
Set - Rarity: Triassic - Uncommon
Card description
"Everyone's magic in their own special way. Everyone except me."
Update history
Update 1.24.6
Update 1.26.3
▲

Sun cost change: 5 → 4
Update 1.30.4
Ability change: When played next to a Leafy Plant: Draw a card. → When played next to a Leafy Plant: Conjure a Leafy card.

▲

Sun cost change: 4 → 3

▼

Strength change: 4 → 3

▼

Health change: 4 → 3
Strategies
With
Typical Beanstalk is a simple 3

/3

for 3

unit, which gives it a pretty average statline to work with.
And its ability, as it obviously implies, has synergy with the Leafy tribe, which includes major stand-ins of the respective tribe like Savage Spinach, Muscle Sprout and the like. But, while this supports that specific subset of plants, that subset of plants doesn't really have a real/serious competitive presence or strategy.
So, this card may have a place in said deck, but the deck isn't particularly good. However, it has a fine statline, so it isn't completely unplayable. Being relatively accessible and having a decent statline to work with, this could find some use in more budgeted

Mega-Grow decks, but otherwise, it is not recommended in any competitive deck. This is simply outclassed by many 3

cards in the game and doesn't fit very much into any competent decks.
In summary, this card is a considerable option if you plan to develop a leafy deck, but leafy decks aren't exactly a very developed strategy at the moment, so that isn't recommended. However, while being an uncommon card and having a playable statline, it has some utility in less expensive decks, but these are its only uses.
Against
Typical Beanstalk is a very ordinary unit. It doesn't pose any specialized constant ability, and it doesn't have any major presence in any real strategy, so there's not a lot to be worried about aside from being a bit more tricky to remove due to its unique statline. The player should go about how most static units would be removed.
Gallery
Old
In other languages
| Language | Name | Description |
| --- | --- | --- |
| English | Typical Beanstalk | |
| Simplified Chinese | 普通豆茎 | |
| Traditional Chinese | 典型豆莖 | |
Trivia
It reuses Magic Beanstalk's older look before the Colossal Fossils update.

Its description also vaguely alludes to Magic Beanstalk as well.
See also