Raise a Floppa - The Loop
Play Sound

Tumbleweed is a premium plant in Plants vs. Zombies 2, that was first introduced in the 8.1.1 update. He rolls down the lane he's planted in, bouncing back any zombie he encounters.
About
Tumbleweed is a seed packet obtainable plant tied to the 15th Arena season, "Tumbleweed's Rumble Season". Tumbleweed is able to be planted anywhere, even on top of already occupied tiles. When planted, he will run down a lane to knock back any zombie (for 1.53125 tiles) he runs into, bouncing off of zombies in-between lane in a similar fashion to Bowling Bulb.
Tumbleweed also has a slim chance to briefly stun zombies he bumps into, and has an even slimmer chance (depending on the type of zombies) to bounce zombies off the lawn completely.
| Toss Chance | Types of Zombies |
| --- | --- |
| 30% | Zombie Imp, Zombie Future Imp, Zombie Ice Age Dodo, Zombie Roman Imp, Zombie Basic, Zombie Pirate Captain, Zombie Roman Healer, Zombie Explorer, Zombie Prospector, Zombie Camel, Zombie Crystal Skull, Zombie Eighties Punk, Zombie Eighties Glitter, Zombie Beach Surfer, Zombie Tomb Raiser, Zombie Modern Newspaper, Zombie Ra, Zombie Swashbuckler, Zombie Poncho, Zombie Chicken Farmer, Zombie Weasel Hoarder, Zombie Dark Wizard, Zombie Beach Snorkel, Zombie Ice Age Hunter, Zombie Lost City Basic, Zombie Lost City Jane, Zombie Lost City Relic Hunter, Zombie Eighties Basic, Zombie Eighties 8Bit Basic, Zombie Eighties MC, Zombie Eighties Break Dancer, Zombie Eighties Boombox, Zombie Dino Basic, Zombie Roman Shield, ZombieRomanTopShield, and Zombie Modern Balloon |
| 15% | Zombie Modern All Star, Zombie Imp Porter, Zombie Future Protector, Zombie Pirate Barrel Pusher, Zombie Ice Age Troglobite, Zombie Eighties Arcade, Zombie Beach Octopus, Zombie Pharaoh, Zombie Dino Bully, Zombie Dino Bully Veteran, and ZombieRomanMedusa |
| 5% | Zombie Mech Football, Zombie Bull, Zombie Bull Veteran, Zombie Piano, Zombie Mech, Zombie Mech Disco, Zombie BigHead Newspaper, Zombie BigHead All Star, Zombie BigHead Superfan, Zombie BigHead Basic, Zombie BigHead Imp, and Zombie Big Head Barrel Roller |
| 0% | Zombies except for all mentioned above |
When planting Tumbleweed, there is also a small chance for multiple Tumbleweeds to be planted at once. If Tumbleweed encounters a Torchwood, he will be set ablaze and deal fire damage to any zombie he bumps into. His appearance also changes as he levels up, appearing in three different phases.
Origins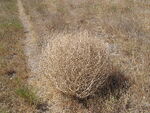 Tumbleweed, as his name suggests, is based on the tumbleweed diaspore, in which a germinated plant will purposefully deprive itself of nutrients, then detach itself from its root stem and be blown away by the wind, dispersing its seeds as it bounces along the terrain.
His ability of being set ablaze by Torchwood is based on how tumbleweeds in real life are extremely flammable, while his ability to sometimes spawn more than one of him at a time is based on tumbleweed's highly aggressive reproduction rate.
Almanac
Note: The stats shown below only apply to Level 1.
Tumbleweed

SUN COST: 50
RECHARGE: 5.5

DAMAGE: 15
Special: Multi-shot

Special: 0.6
RANGE: Straight

Tumbleweeds roar off down the lane, bouncing off zombies and knocking them back with a chance to stun or even flip them off the lawn.

Special: set aflame by Torchwood

This zesty little guy can't wait to get at it! Places to do! Things to go! It works because he planned thoroughly ahead of time.
Tumbleweed

SUN COST: 50
RECHARGE: 5.5
DAMAGE: 15
Special: Multi-shot
Special: 0.6
RANGE: Straight
Tumbleweeds roar off down the lane, bouncing off zombies and knocking them back with a chance to stun or even flip them off the lawn.
Special: set aflame by Torchwood

This zesty little guy can't wait to get at it! Places to do! Things to go! It works because he planned thoroughly ahead of time.
Upgrades
Appease-mint effect
When boosted by Appease-mint, Tumbleweed will gain an additional 105 DPS, his bonus tumbleweed chance is increased by 35%, and his knockback chance is increased to 90%.
Level upgrades
Level
Seed Packets
Coins
Upgrades
Sun Cost
Recharge
Starting Recharge
Damage
Stun Duration
Special
(Knockback)
Special
(Multi-shot)*
Distance
Chance
Amount
Chance
1
0
0
50
5.5 seconds
3 seconds
15 dps
3 seconds
Normal
60%
1
15%
2
50
5 seconds
2.75 seconds
25 dps
3.5 seconds
+6%
65%
3
100
4.5 seconds
2.5 seconds
35 dps
4 seconds
+12%
20%
4
200
4 seconds
2.25 seconds
45 dps
4.5 seconds
+18%
75%
5
300
25
3.5 seconds
2 seconds
55 dps
5 seconds
+24%
25%
6
400
3 seconds
1.75 seconds
65 dps
5.5 seconds
+30%
80%
2
7
500
2.5 seconds
1.5 seconds
75 dps
6 seconds
+36%
30%
8
600
2 seconds
1.25 seconds
85 dps
6.5 seconds
+42%
85%
9
800
1.5 seconds
1 second
95 dps
7 seconds
+48%
35%
10
1,000
1 second
0.75 seconds
105 dps
7.5 seconds
+55%
90%
*Shows the amount and chance of bonus Tumbleweeds respectively.
Strategies
Tumbleweed is an interesting support plant similar to Bowling Bulb in function in that it bounces between zombies, affecting multiple targets. His relatively low sun cost, quick recharge and chance to duplicate once planted make him a valid plant for spamming, and can prove effective at stalling entire crowds. The strength of Tumbleweed can be seen to full effect against large hordes, where it can affect as many zombies as possible.
As Tumbleweeds effects are useful regardless of zombie toughness, it might be useful plant for Penny's Pursuit levels (and especially for 3-pepper ones), where the zombies are significantly stronger. The instant kill chance, brief stun and pushback abilities Tumbleweed possesses are all useful here.
Tumbleweed is a great early game stall plant against small groups of zombies, as it can slow them down so the player can set their defenses faster, or knock them off the board completely. Because of this, Tumbleweed excels against Weasel Hoarder and Chicken Wrangler Zombie, as he can easily bounce between all the chickens and weasels as they are released. Tumbleweed also excels in Neon Mixtape Tour as he can bounce between zombies protected by Glitter Zombie and 8-Bit Zombie produced by arcades.
As great as Tumbleweed is against large groups, as terrible as he is against rows. As he bounces as soon as he hits the first zombie in a row, Tumbleweed cannot deal with large advances in a row unless there are zombies above or below them in another row for Tumbleweed to bounce off to. Tumbleweed therefore does not make for a good 'clutch' plant to stop zombies just before they reach the players house, as the damage he does is insignificant and he will only hit the zombie once.
The nature of his bouncing can also make him unpredictable when planted in the middle three rows - he can either bounce upwards or downwards, potentially wasting a lot of utility. Whilst Tumbleweed can be planted before a Torchwood to light it on fire, the extra damage it gains is insignificant, so it is not recommended to rely on this as a strategy. Note that tumbleweed can be planted on tiles occupied with plants, this means tumbleweed can be used without digging up a plant.
Gallery
Plants vs. Zombies Wiki
has a
gallery
for Tumbleweed.
In other languages
| Language | Name | Description |
| --- | --- | --- |
| English | Tumbleweed | |
| French | Virevoltant | |
| German | Steppenläufer | |
| Italian | Rotolacampo | |
| Brazilian Portuguese | Salsola Rolante | |
| Spanish | Rodadora | |
Trivia
Tumbleweed is the first and only plant in the International version of Plants vs. Zombies 2 who changes appearance when leveled up.
He is the only non-peashooting plant in Plants vs. Zombies 2 whose attack can be affected by Torchwood.

He will deal more damage when passing through Torchwood. However, he won't get any extra damage when passing through a Plant Food-fed Torchwood unlike other peas that pass through him.

He is one of the two plants that cannot be upgraded to Mastery, yet belongs to a plant family. The other one is Intensive Carrot.
He cannot be planted on water in Big Wave Beach even though he appears to be floating as he rolls across the water.

This is mostly because he would need to gain friction on the ground to start rolling.
See also