For the version in Plants vs. Zombies: All Stars, see Trump Tulip.
Trump Tulip (郁金香号手; pinyin: yùjīnxiāng hàoshǒu) is a plant in the Chinese version of Plants vs. Zombies 2 introduced in the 2.2.7 update.
This plant has two forms, in one form, he is yellow and heals other plants, while in the other form, he is red and attacks zombies with blue musical notes (and hypnotizes zombies with red musical notes at higher levels).
The healing form is only activated when there are zombies close enough to him.
Origins
Trump Tulip is based on the tulip, a genus of spring-blooming perennial herbaceous bulbiferous geophytes, and a trumpet, a brass instrument commonly used in classical and jazz ensembles.
Almanac entry
郁金香号手

Trump Tulip

既可以远程攻击,又可以近距离治疗的植物

特点:当前方一定距离内没有僵尸的时候是攻击形态,僵尸接近后则变为治疗形态,这样可以满足攻击和防守的需要。
植物特征:红色植物、黄色植物。
生活中的郁金香号手温文尔雅,可是一旦到了舞台,他可是变得热情异常,双重人格 使得他让别人又爱又恨,常听人说:那可是个让人琢磨不透的家伙呢。
郁金香号手 (Trump Tulip)
Sun cost: 225
DAMAGE: Normal
RANGE: Straight
RECHARGE: Fast
既可以远程攻击,又可以近距离治疗的植物
特点:当前方一定距离内没有僵尸的时候是攻击形态,僵尸接近后则变为治疗形态,这样可以满足攻击和防守的需要。
植物特征:红色植物、黄色植物。
生活中的郁金香号手温文尔雅,可是一旦到了舞台,他可是变得热情异常,双重人格 使得他让别人又爱又恨,常听人说:那可是个让人琢磨不透的家伙呢。
In English:

A plant that can attack at long range, and also heal at close range.

Special: Is in attack form when there are no zombies in a certain range in front of it, and becomes healing form after zombies approach, can satisfy offensive and defensive needs like this.
Plant features: red plant, yellow plant

Trump Tulip is gentle in his life, but once he is on the stage, he is full of enthusiasm. He leads a double life and others love and hate him. He often hears people say: "There's an unpredictable guy over there."
Upgrades
Plant Food upgrade
When fed with Plant Food, Trump Tulip releases soundwaves along with ribbons and flowers, which deal damage over a 3x3 area and heal other plants continuously within 3 seconds.
Costumed
The Plant Food effect now lasts for 5 seconds.
Level upgrades
Level
Upgrades
Description

Diffusing Sound
弥漫之音
Trump Tulip has a chance to shoot special red notes which hypnotize the zombie it hits.

Combat Training
战斗训练
Trump Tulip gains 50% more attack power and health (150% of initial).

Lingering Sound
余音绕梁
The effect of Diffusing Sound is doubled.

Cell Activation
细胞活化
Trump Tulip gains another 50% more attack power and health (200% of initial).

Ability Awaken
能力觉醒
Trump Tulip may be boosted when planted.

Fighting Power
战斗能力
Trump Tulip gains another 50% more attack power and health (250% of initial).

Colorful Overture
缤纷序曲
Flower petals can be seen floating around Trump Tulip. Trump Tulip starts absorbing the air around.
After the absorption, it unleashes a huge petal sound wave which hypnotises zombie ahead.

Fighting Power
战斗能力
Trump Tulip gains another 50% more attack power and health (300% of initial).
Strategies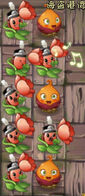 Trump Tulip should be treated as a Heavenly Peach that will not heal, but instead, attack if there are no zombies nearby. Pairing him with defensive plants such as Wall-nut or Endurian is recommended as he prolongs their survivability and attacks incoming zombies. Like with Heavenly Peach and Phat Beet, planting multiple Trump Tulips around Sweet Potatos and Hot Dates can result in an almost everlasting zombie attractor.
Keep in mind that he can't attack if there is a zombie close to him, so zombies such as Swashbuckler Zombie or Lost Pilot Zombie will pose as a huge threat. A way you can prevent this is by using other attacking plants and pairing him with those other plants or pairing it with knockback plants like Chard Guard or Primal Peashooter.
As of Level 2, he is sometimes able to hypnotize zombies, making him a more predictable and cheaper Caulipower when it works, although it is not recommended to make your strategy revolve around this. Always remember that the red notes cannot hypnotize Gargantuars (regardless of levels Gargantuars currently is) and any zombies that are higher level than him.
With his healing ability, however, using Heavenly Peach is better since the latter is cheaper and does not require zombies to get close to heal.
Gallery
Plants vs. Zombies Wiki
has a
gallery
for Trump Tulip.
Trivia
He reuses MC Glory's sprites when his projectile hits something.
His face is the same as Thyme Warp's face.
He is not wearing a costume in his costume puzzle piece.
Although his name suggests he plays the trumpet, the instrument he actually seems to be playing resembles a sousaphone.
Despite the fact he is available from the Lottery System since version 2.2.8, his icon is not shown there.
See also