Raise a Floppa - The Loop
Play Sound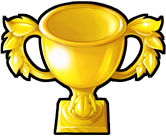 For the PlayStation 3 "Trophies" (achievements), see PlayStation Network achievements.
For the PlayStation Vita achievements, see PlayStation Vita achievements.
For Plants vs. Zombies 2 trophies, see Trophy (PvZ2).
A trophy is an item available in Plants vs. Zombies that is received when the player completes a special level for the first time, which includes mini-games, puzzles in Puzzle Mode, and levels in Survival Mode. They are picked up just as one would pick up a seed packet at the end of most regular levels by tapping or clicking on them. In Plants vs. Zombies, if there are more levels to be unlocked in the category where the player collected a trophy, a new level is unlocked in that category after obtaining a trophy. When the player unlocks all the levels in the respective mode, a message simply says "Keep on collecting those trophies!", meaning to collect all trophies for that mode. If all ten trophies are collected in the Survival Mode, this will unlock Survival: Endless.
A trophy is usually accompanied by the acquisition of a diamond upon the first completion, with gold coins in a money bag containing 250 coins for subsequent successful attempts. However, in Vasebreaker mode, five gold coins, worth 250 coins, are found in the trophy instead of a diamond. In addition to that, replaying Vasebreaker levels gives two gold coins, worth 100 coins. Gold coins are also obtained from the remaining Lawn Mowers, Pool Cleaners, and Roof Cleaners.
The Silver and Gold Sunflower Trophies count as trophies also; although they give the player three and five diamonds, respectively, instead of one.
When playing Versus Mode on the Xbox Live Arcade, PlayStation 3, and Nintendo DS versions of Plants vs. Zombies, the player will get a green trophy for winning as the plants, or a silver skull trophy for winning as the zombies. This is the first and only time this trophy appears.
Types of trophies
Gallery
Trivia
In the older iPhone and iPod Touch versions, it was possible to earn a trophy by hitting a green vase last in Quick Play Vasebreaker. This glitch was fixed in a later update. However, it still occurs in Plants vs. Zombies FREE.
The Xbox Live Arcade version hides the Silver and Gold Sunflower trophies.
Trophies can be bought in Zombiquarium for 1000 sun. However, this simply just completes the mini-game, and does not actually award more trophies after one playthrough.
When you finish a non-endless hidden mini-game, you do get a trophy, but in the awarding screen, it says you got the gold sunflower trophy instead.
The plant trophy is just a green palette swap of the regular trophy, whereas the zombie trophy has a completely different picture.

This is probably because the regular trophy already has leaves on it, symbolizing the plants.