Trials of Gnomus Gameplay Trailer Plants vs. Zombies Garden Warfare 2
Play Sound
"

The Ministry of Mystery welcome you to the Trials of Gnomus. Only the bravest of you will stand a chance of success. Beyond the trials, tests and traps await two great powers sealed away behind rainbow locks. The Rainbow Stars may be the key to the locks, but the keys grant passage to the Trials. May the Trials forever be in our favor. Tra la la!

"

—The Ministry of Mystery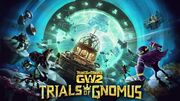 Trials of Gnomus is the fourth content update in Plants vs. Zombies: Garden Warfare 2, released on September 8, 2016. Some features of this update is the Mystery Portal inside the Town Hall, which will open at scheduled times and will bring you to one of three game modes, either being Super Mix Mode, Cats vs. Dinos, or Boss Hunt and, like the name indicates, the Trials of Gnomus. Behind the locked gnome door in the secret gnome cave is a portal which will lead you to another dimension, where you must complete several trials which will test your skill/agility, shooting, memory, and balance. However, in order to access a trial the player must earn a brand new currency called Rainbow Stars. This update also features the return of the classic gestures and various customization items from Plants vs. Zombies: Garden Warfare.
Rainbow Stars can only be obtained by playing game modes in the Mystery Portal or by trading 7 normal Stars for one Rainbow Star with a seagull in the Town Hall. Rainbow Stars are used to unlock 3 chests inside the Town Hall, with the yellow chest containing one customization item, the blue chest with two, and the most expensive red chest contains a Trial Key which will unlock one of the trials in the gnome dimension, along with both a customization item and a taunt from Garden Warfare.
Another brand new feature is Rux's Bazaar, owned by a mysterious gnome named Rux and is located in the sewers. Rux will appear occasionally and will sell random customization items for the player to buy with coins. One of the customizations will nearly always be a legendary customization, however these can cost up to 500,000 coins.
There has also been a lot of character and map balancing added in this update.
On the day that the content update was released, PopCap updated the game's website with an all-new Event Calendar, which will help players keep track of the portal events, community challenges, Rux appearances and character showcases that have been scheduled during the month. It updates every first day of the month.
Patch Notes
Hello, PvZ fans!
I hope you're all enjoying your summer and have found the right balance between building sandcastles on the beach and vanquishing Zombies...or Plants.
In order to make the end of the summer holidays more enjoyable, we're ready to launch our next free content update and it's jam-packed with goodies of Gno-mongous proportions. The Trials of Gnomus are about to start, unleashing tons of new content, including new game modes, unique weekly events with new loot to earn, a mysterious gnome merchant with an inventory of rare goods, an enigmatic new gnome underworld to explore, and more.
Trials of Gnomus introduces the Mystery Portal, a magical gateway built by gnomes to test the skills of the plants and zombies. Players can travel through the Mystery Portal to play three all-new limited-time game modes and earn Rainbow Stars to unlock Rainbow Chests and the Gnome Underworld. In this all-new area, players can engage in the Trials of Eternity, a series of challenging gnome trials that will test their speed, puzzle-solving, shooting, and memory skills. By discovering and completing the Trials of Eternity, players can unlock new rewards from legendary customization items, to original Garden Warfare favorites, and eventually redeem prizes that will change their PvZGW2 universe forever.
The three limited-time game modes are: Cats vs. Dinos – faceoff in a Jurassic battle of felines versus dinosaurs in this fast, competitive game mode fought in a new extra-large Gnomiverse multiplayer map.
Boss Hunt – team up with friends and take on the ultimate PvZ challenge as you battle epic bosses. Battle on higher difficulties to earn even bigger rewards.
Super Mix Mode – a new, crazier mix of Crazy Settings featuring different combinations of characters squaring off against each other.
And our biggest update yet wouldn't be complete without additional fixes and a full tuning and balancing pass for characters and maps. All details regarding this can be found below and as always we want to hear from you - your feedback helps us make this game the biggest, baddest, craziest shooter out there!
We hope you enjoy this update and continue to reach out to share your thoughts and suggestions with us so we can continue to improve the game together. To-looo-looo, let the Trials of Gnomus begin!
Marcel Kuhn, Producer - Plants vs. Zombies Garden Warfare 2
New Features
Mystery Portal

Added a Mystery Portal in the Town Hall, where it goes... well that's a mystery. Come back often to see where it takes you!

Mystery Portal Chests

Added 3 chests that require rainbow stars to open, each containing unique content

Super Mix Mode

Added new game mode type that can appear in Mystery Portal

Rux the Deal Breaker

Rux the Deal Breaker will sometimes appear in the sewers and sell rare and high value items

New Quest Board Quests

Added some new quest types

Trials of Eternity

Added the trials of eternity which may or may not test your abilities to the limit

Added new map
Added Cats vs Dinos Mode

Cats vs Dinos competing in elimination rounds (Only available at limited times through Mystery Portal)
Only playable on the all new Gnomiverse XL map

Added other surprises n' stuff....
Critical Fixes
Fixed case where sometimes turrets would respawn immediately after being destroyed in Delivery Time Challenges
Fixed some customization clipping issues
Fixed rare black screen freeze when returning to backyard battleground
Fixed issue where Chompers feet wouldn't trigger race checkpoints, resulting in players missing them
Fixed some auto-warping issues in Great White North Map
Fixed leaderboard scrolling UI issue
Fixed incorrect team showing as winning in end of round when castle gate is destroyed after time runs out in Seeds of Time map
Fixed some disconnection issues that displayed incorrect community portal stats
Fixed a few cases where player would remain as goat or Rocket Chomper after completing/failing delivery challenges
Fixed rare hang when player is trying to join a multiplayer match from portal
Fixed edge case that created looping audio using restart button during delivery time challenge
Fixed issue where players could shoot through the arm of the giant Zomboss Mech in Zombopolis
Fixed some display issues with Progress-o-meter when joining another players backyard battleground
Fixed some issues when restarting time challenge while gnome freeze time target is active
Fixed a few exploitable areas where players were able to climb out of world in Moon Base Z
Fixed issue where friends couldn't join a friend in a multiplayer server when friends backyard battleground was set to private
Fixed issue where some players were not able to join a Garden/Graveyard Ops session when session was in progress
Fixed some collision bone issues for pirate and engineer turrets (was not updating with rotation of turret)
Added Breakfast Brainz and Toxic Citron AI to special challenges and challenge waves in Ops
Fixed incorrect difficulty being show when joining another players Backyard Battleground
Fixed audio issue of toxic citron weapon playing wrong flyby sound
Fixed a few instances where the end of round check-mark for being "ready" was inaccurately checked on
Fixed instance where players were able to play as character variants in Welcome Mat playlist
Fixed buggy chomp camera transition when chomped by Hot Rod/Fire Chomper and Count Chompula
Fixed instance where purchase coins button sometimes disappeared
Fixed some bad collision boxes in Frosty Creek
Fixed instance where a Failed to Connect message was being displayed even when successfully matchmaking
Made the Pea Shooter's Chili bean non-pushable by characters
Fixed multiple issues with Gnome Bomb interfering with Legendary Modes. Picking up the Gnome Bomb no longer cancels Legendary Modes.
Great White North
Adjusted Defender and Attacker spawn areas for Objective 1
Removed 4 Plant Turret spawners and added 4 Zombie Gravedirt Spawners at Objective 1
Balanced Mini-Game
Adjusted Capture Times for Objective 1 & 2
Seeds of Time
Adjusted Capture Times for Objective 1 & 2
Zombopolis
Adjusted Capture Times for Objectives 1 & 2
Decreased Zombot Health by 10%
Decreased Battery Health by 15%
Moon Base Z
Adjusted Capture Times for Objectives 1 & 2
Zomburbia
Adjusted Capture Times for Objectives 1 & 2
AI Tuning
Disco Zombie Hp Increase

Increases his survivability making him a more formidable boss and a better dancer.

Yeti Imp HP Increase

Separates them from the base exploding imps, making them more difficult to vanquish.

All Yeti Variants Apply Knockback Now

Knockback was being unintentionally dispelled causing yeti's to be cornered easily.

Marigold Applies Knockback Now

Knockback was being unintentionally dispelled, making it easy for her to be cornered.

Sunflower AI drop their healing pot 50% less as a defensive tactic.

This makes her less predictable when being shot, and more fun to shoot.

Dandelion can now explode while stunned.

Bug fix, dandelions would disappear on vanquish if stunned.

All Gargantuar melee's have increased in effectiveness.

They all now use radial damage; this increases their slam accuracy. This makes them less of push over boss.

Giga Gargantuar's Slam now has electric element damage.

This improves his slam attack and aligns him more with his original character design.

Superbean will enter his Overbean state 30% less.

We found fighting multiple beans gets tiring and difficult. Lowering Overbean chance makes each encounter a little different.
Character Tuning

Chomper
Increased health regeneration rate from 50% faster to 75% faster than standard regen rate
Increased health from 125 to 135
Dev Team Notes: Chomp Thing's main ability is regenerating health quickly. However, the rate isn't fast enough currently to be substantial in any way. We also find he gets vanquished a little too quickly. Giving him a slight health boost will give him that extra edge to hide and regenerate.
Fire DOT damage decreased from 5 to 4, and number of damage ticks increased from 4 to 5.
Decreased damage from 10 to 8
Dev Team Notes: His fire breath compounds with his damage over time to create a very high damage output. Adjusting his DOT to be aligned with other fire DOTs and decreasing his damage slightly will decrease the rate at which he can vanquish zombies without altering his effectiveness too much. Changes to his DOT do not decrease his total damage output, only the rate at which the damage is dealt to stay consistent with other fire damage. One application of his fire DOT will still deal 20 damage as it did before, and as do other fire DOTs.
Peashooter
Added 15 splash damage with a 4.5 meter radius to a non-character impact for fully charged shot. This does not affect his direct impact damage.
Dev Team Notes: Plasma Pea's fully charged shot currently has no splash damage on a non-character impact, rendering it somewhat useless if it's not a direct hit. It can seem like a waste to fully charge up and then deal minimal to no damage on a miss. Adding a small amount of splash to his fully charged shot makes a missed shot less punishing without affecting the impact damage.
Sunflower
Rate of fire increased from 5.4 shots/second to 6 shots/second
Dev Team Notes: She doesn't have the damage output necessary to deal with enemies like the other sunflowers do. Increasing her rate of fire will not only help her damage output but also make it easier for her to hit enemies more consistently.
All-Star
Decreased overheat penalty time by 1 second
Increased firing time before overheat by 0.5 seconds
Dev Team Notes: Because his time to fire before overheating is so short, it can result in his overheat penalty being longer than his firing time if the user holds down firing trigger. Decreasing his overheat penalty time and increasing his firing time before overheating will help make him more effective and satisfying to use.
Imp
Decreased splash damage from 9 to 3
Increased close/far impact damage from 9/5 to 12/8
Dev Team Notes: Pylon Imp is supposed to be an impact based character. He is currently doing far too much splash. For example, his splash against peashooter is more effective than peashooter's against him. We've decreased his splash damage to fix this and increased his impact damage to compensate. He remains a very strong character to use, but players will need to be more accurate with their shots.
Scientist
Increased Ammo Capacity from 5 to 6
Dev Team Notes: His damage output is decent and makes him an effective enemy. However, with one of the lowest ammo counts amongst the scientists missed shots are currently too punishing.
Increased close/far damage from 17/13 to 20/15
Dev Team Notes: His damage output suffers severely compared to other scientists. Increasing his damage a bit will help him keep up with the others.
Trivia
PopCap has claimed that this has been the biggest update to this game that they have ever released.

They also claimed that they planned this update before Garden Warfare 2 was even launched.

Gary Clay claims that it would take a few months to view all content within this update.
This the first content update where the Gnomes can be fought outside of Infinity Time.
A quote mentioned in the introduction of the Ministry of Mystery says, "Beyond the trials, tests and traps await two great powers sealed away behind rainbow locks." This likely was a hint to Torchwood and Hover Goat-3000.

This hint also includes the two empty spots in the plant and zombie hero rooms, where their bobbleheads appear.

Torchwood and Hover Goat-3000 have been officially released and it is true that they are inside the chests aforementioned.
The Bling Pylon Mech was briefly teased in its trailer.
The trailer seems to be reversed, as near the end the number on the "Days Left" clock goes backwards to 4, and in the part where the Kernel Corn opens the chest, the loot from the chest goes back inside the chest.
Trailer
Community content is available under
CC-BY-SA
unless otherwise noted.