This article is under construction and requires more content. You can help our wiki by
expanding it
.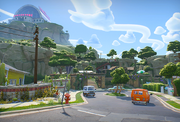 Town Center is a Plants and Zombie free-Roam Region area in Plants vs. Zombies: Battle for Neighborville. To access this region, one must talk to either Vivian on the Plants' side of Neighborville or Dr. Nurse Doctor on the Zombie's side. It is composed of three main regions: Sundrop Hills, Up-Down-Uptown, and Pressure Pier.
Missions
Plant Missions
Boogie Beatdown

: The Battle for Neighborville is like a pool that's ALL "deep end." Put on your swim suit because you're busting into Olds Cool's club (formerly known as Funderdome) and taking him down!
Baron-Palooza: Baron von Bats is no regular zombie. He's a Baron! With a cool hat! Banish that Baron and brandish his bowler! It's not a bowler hat, but you get the idea.

Fight Zentrification

: The Uno Taco is the town's favorite place to eat. An upscale zombie brains bistro? Not so much. Defend the Uno Taco and grab Zen Sensei's Goatee!
I Treasure You: Don't panic! Tenderleaf's squad ran into trouble looking for Treasure Yeti and his Bling. But that won't happen to you, right? Right?
Zombie Missions
Infection Detection

: Something's infecting zombies, turning them into well-adjusted members of society. Ones who don't want to eat brainz! It must be stopped!

Brinesport: License to Dill

: In a world overrun by a rude pickle named Brian who thinks he's SO cool, a zombie seeks revenge and the all-important DETONATOR. Is that zombie YOU?

Parade Gloat

: Plants are guarding a centuries-old stink at the Museum. The only way to steal it is to distract the plants. But how? With a HUGE distraction, obviously!

Balloon Bufoons

: The Balloon tangled on the TV Station's antenna is the only one in town since the balloon factory popped. Rally the troops and go get it!
Medals
Both Teams
Shelf Stuffers
Side Gigs
Top Dog - Bring a Crystal Dog to the Strange Well.
Being Gnosey - Survive a gnome challenge in Town Center.
Gno Problemo - Survive all gnome challenges in Town Center.
Demolition Fan
Plants
Adventures
Sightseeing
Shelf Stuffers
Side Gigs
Demolition Fan
Zombies
Adventures
Sightseeing
Shelf Stuffers
Encounterable Plants
Encounterable Zombies
Trivia
It is the only free-roam region where both teams can play on. Although players can only either play all as the plants for the daytime version or all as the zombies for the nighttime version.
Gallery