New Pokemon Games - The Loop
Play Sound



Towering Wisdom is an achievement that can be obtained in the PC, Steam, Xbox Live Arcade, PlayStation Network, and Nintendo DS versions of Plants vs. Zombies. To get it, the player must grow the Tree of Wisdom to at least 100 feet tall. The Tree of Wisdom starts at one foot tall and Crazy Dave will then give the player five free bags of Tree Food after buying the Tree of Wisdom. The additional 94 bags of Tree Food needed to grow the Tree of Wisdom to 100 feet plus the tree itself cost $245,000 altogether.
This achievement is equivalent to Smarty Branches on the Xbox Live Arcade, PlayStation Network, and PlayStation Vita version and Cerebral Canopy on the Nintendo DS version.
Ways to raise money
See Money guide for more ways to raise money.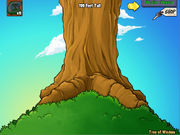 The player might need to make money fast by playing Survival: Endless or by doing some Gold Farming in Last Stand.
Hanging around a full Zen Garden is another good way for the player to rack up money fast.
Finding and killing the Zombie Yeti is a very good idea, as can be seen here.
If the player is willing to hack, they can use a Cheat Engine for a money hack. For the guide for doing so, see Hacking guide.
The player could play some mini-games (especially Wall-nut Bowling 2) or I, Zombie to earn money. The player will get five gold coins every time he or she wins.
In the IOS version, and possibly other versions, playing the first Vasebreaker level multiple times will net you 250 each time, along with being relatively easy.

You can use the Quick Play feature in the IOS version, play Level 1-1, and simply bring along Garlic, Marigold, and Gold Magnets (possibly, if you don't want to pick it up yourself) and Spikeweed, along with Pumpkin, Tall-Nut, or Wall-Nut for any zombies that survive.
See also
* means the achievement is PC-exclusive.
** means the achievement is handheld-exclusive.
*** means the achievement no longer exists.