New Pokemon Games - The Loop
Play Sound

Tough Beans is an achievement that can be obtained on the Nintendo DS version of Plants vs. Zombies. To obtain it, the player must complete every level of Survival Mode.
Strategies

For a strategy guide, see Survival Mode.
With every Survival level having a different setting with different environment modifiers, getting this achievement will require time, patience, and a good strategy. The normal Survival levels are generally easy to complete, but the Hard versions will require more effort.
Getting a certain number of flags in Survival: Endless is not necessary for completing this achievement; just complete the regular and hard versions of the Survival levels, and you'll be good to go.
Trivia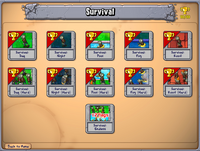 The image for it is also used for Nobel Peas Prize, albeit it being more pixelated due to DS graphics.
The description is misleading, as it implies that player also needs to earn a trophy in Survival: Endless to earn the achievement, which is an impossible task.
See also
* means the achievement is PC-exclusive.
** means the achievement is handheld-exclusive.
*** means the achievement no longer exists.