Raise a Floppa - The Loop
Play Sound

Not to be confused with the Hazelnut in Plants vs. Zombies: All Stars.
Tornacorn (旋风橡果; pinyin: xuànfēng xiàng guǒ) is a plant obtained in Frostbite Caves in the Chinese version of Plants vs. Zombies 2. He launches its cap to attack up to three zombies in front of him twice in a similar manner to Bloomerang. When the cap hits Walrus Zombie, it explodes and destroys that it immediately. 
Origins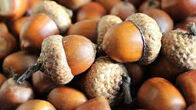 Tornacorn is based off an acorn, a nut and a seed of an oak.
Its name is a portmanteau of "tornado", referring to its Plant Food effect and "acorn", the real-life plant it is based on.
His Almanac entry references Bloomerang as Tornacorn attacks the same way as he. It also references Bloomerang's costume Plant Food effect where it shoots its boomerangs in a cross-shape.
Almanac entry
Note: Tornacorn's damage is Heavy in-game.
旋风橡果

Tornacorn

旋风橡果可以攻击前方一排的僵尸,并击断海象僵尸的牙齿。

特点:攻击前方一排僵尸,并击断海象僵尸的牙齿。

植物特征:旋风家族、龅牙小子
旋风橡果非常喜欢运动。他曾经与回旋镖竞争过植物运动会飞盘表演赛的冠军,可惜后者用一手四方飞盘的技术打败了他。为了能在下一届运动会中能有出彩表现,他开始疯狂练习跑步,他对自己拥有玩飞盘的经验感觉信心满满:他已经可以利用旋转跑出最快的起步速度——副作用是冲出一段距离之后会回旋回来。
旋风橡果 (Tornacorn)
Sun cost: 300
DAMAGE: Normal
RANGE: Multi-Hit
RECHARGE: Fast
旋风橡果可以攻击前方一排的僵尸,并击断海象僵尸的牙齿。
特点:攻击前方一排僵尸,并击断海象僵尸的牙齿。

植物特征:旋风家族、龅牙小子
旋风橡果非常喜欢运动。他曾经与回旋镖竞争过植物运动会飞盘表演赛的冠军,可惜后者用一手四方飞盘的技术打败了他。为了能在下一届运动会中能有出彩表现,他开始疯狂练习跑步,他对自己拥有玩飞盘的经验感觉信心满满:他已经可以利用旋转跑出最快的起步速度——副作用是冲出一段距离之后会回旋回来。
In English:

Tornacorn attacks a row of zombies ahead of him and breaks Walrus Zombie's tusks.

Special: Attacks a row of zombies ahead and breaks Walrus Zombie's tusks.

Plant feature: tornado family, buck-toothed boy


Tornacorn loves sports very much. He once competed against Bloomerang for the champion of boomerang show match on the plant sports meeting. Unfortunately, Bloomerang used a technique of hurling boomerangs in a cross-shaped pattern and beat him. To have a wonderful performance at the next sports meeting, he began to take crazy running exercise. He feels confident because he is experienced in playing with flying discs. He has been able to reach the highest possible starting speed by whirling like a boomerang. A side effect is that he will return after running a distance.
Upgrades
Plant Food effect
When fed with Plant Food, Tornacorn summons a tornado, flies in it and deals 1800 damage to all zombies and destructible obstacles in his way before falling on his tile.
Costumed
Tornacorn now spins up two more tornadoes to attack the first zombies of the two adjacent lanes.
Level upgrades
Level
Upgrades
Description

Super Clockwork
超级发条
Charge time is shortened by 15%.

Combat Training
战斗训练
Tornacorn gains 50% more attack power and health (150% of initial).

Rapid Rotation
快速旋转
Charge time is shortened by another 15% (30% of initial).

Cell Activation
细胞活化
Tornacorn gains another 50% more attack power and health (200% of initial).

Ability Awaken
能力觉醒
Tornacorn may be boosted when planted.

Fighting Power
战斗能力
Tornacorn gains another 50% more attack power and health (250% of initial).
Strategies
Although it takes a while to recharge, it deals heavy damage. It should be assisted with Winter Melons or Sap-flings to make up for that recharge. Leave a Chard Guard, Tall-nut, or Infi-nut in front of it. It is a good idea to couple this with strong and fast attacking plants just in case the player's defensive plants die.
Gallery
Plants vs. Zombies Wiki
has a
gallery
for Tornacorn.
Trivia
See also