This subject currently has no proper strategy associated with it. If you have figured out a good strategy, please
add it
or the zombies will eat your brains!
This article is under construction and requires more content. You can help our wiki by
expanding it
.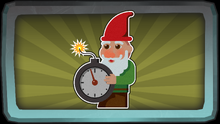 The Last Second is an achievement in Plants vs. Zombies: Garden Warfare. The player earns it by defusing a Gnome Bomb in the Gnome Bomb game with three seconds or less until it explodes. This can be very difficult, as the Gnome Bomb takes fairly long to defuse. This is not the only problem, however. Other allies can defuse the Bomb before you do, or enemies can vanquish you before you even defuse the bomb, blowing up the structure.
Your best bet to getting this achievement is defusing it on when it has 6 seconds remaining. It may sound like it wouldn't work, but the timer will still tick as you defuse the bomb, leaving you with 1-3 second(s) remaining when you finally defuse it.
This achievement is mostly based on luck, as most of the time you will be vanquished or others will defuse it before you, or you may even blow up with the structure.
How would you rate The Last Second's difficulty?
Community content is available under
CC-BY-SA
unless otherwise noted.