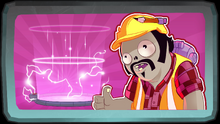 The Astral Plane is an achievement in Plants vs. Zombies: Garden Warfare. To get it, the player must build three teleporters in a session of Gardens & Graveyards as an Engineer.
Strategies
The Astral Plane is harder than it sounds, as other Engineers can sometimes reach the teleporter first and build it before you can get there. The best option is to play as an Engineer in a game where few players are, and use the Jackhammer or Turbo Jackhammer to rush to the teleporter as quickly as possible. Try to do this where there is only one or no other Engineers for convenience. It could be a good idea to let the teleporter get destroyed, vanquish the plant that destroyed the teleporter and then rebuild it. If the zombies look like they are winning, go ahead of the garden and reach the border line of out of bounds. It is also an option to already build the teleporter anyway for a better chance to get the achievement, but the zombies may capture the base already before you succeed.
See also
How would you rate The Astral Plane's difficulty?
Community content is available under
CC-BY-SA
unless otherwise noted.