Talisman Zombie was a minor recurring character within the Plants vs. Zombies franchise, particularly in the Chinese spin-offs.
Talisman Zombies often fought by throwing talismans, which disable any plant that they're thrown at.
As of Plants vs. Zombies: All Stars, Talisman Zombie had appeared in three games.
Origins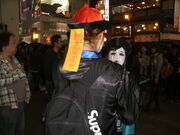 He is a reference to Jiangshi (僵尸; pinyin: jiāngshī), also known as a Chinese hopping vampire. It is commonly depicted as stiff corpse dressed in Chinese shroud resembling and being mistaken for the official garments from the Qing Dynasty as well as being depicted in popular culture to have a paper talisman, hence his name. The hopping animation of this zombie is based on how the a jiangshi suffer the effects of Rigor mortis (stiffening of the limbs of the corpses), not to be confused with Rigor Mormist (the Music of the Fog level in Plants vs. Zombies).
History

In Plants vs. Zombies: Great Wall Edition, Talisman Zombie can be found at the Great Wall area and sometimes in Endless modes. He threw a talisman at a random plant on the same row as him and put it to sleep, then increased in both movement and attack speed.
Coffee Bean can be used to wake up the sleeping plants, like how it wakes up mushrooms normally. He is similar to Newspaper Zombie in the sense that they both become enraged after taking enough damage.

Talisman Zombie reappeared in Plants vs. Zombies Social Edition. He would pop out of the ground randomly at column 6 to 9 and throw a disabling tag the closest plant toward it during the game. After disabling one plant, it retreated back into the ground and left the lawn.
Plants that were disabled could not attack until the disabling tag wore off, they became intangible to all zombies on the lawn, allowing zombies to walk by the player's defenses. Blover could blow away any talismans thrown by Talisman Zombie.
Unlike his other appearances, he dressed like a Taoist priest instead of a government official in Qing Dynasty of China. The talismans are also no longer attached to his forehead, but floating around him.

Talisman Zombie made one last reappearance in Plants vs. Zombies: All Stars as a mini-boss. He had an ability to slap plants when he was close to them. His boss skill was to send the talisman which was sticking on his face, as it would do a double-scratch on a plant.
Unlike its Plants vs. Zombies: Great Wall Edition counterpart, it no longer put plants asleep.
Gallery
Plants vs. Zombies Wiki
has a
gallery
for Talisman Zombie.
See also
V ·

T

· E

Recurring characters