Raise a Floppa - The Loop
Play Sound

"

"Who would want to hurt little ol' me?? Everybody, it turns out."

"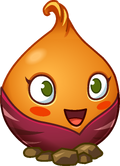 Sweet Potato is a minor recurring character within the Plants vs. Zombies franchise. Sweet Potato is a defensive plant who is able to lure zombies from adjacent lanes to her own, preventing zombies from advancing by blocking them off with her high health, as well as diverting them from unguarded lanes or other plants.
As of Plants vs. Zombies 3, she has appeared in three main-line games, with a handful of appearances in Chinese spin-offs.
Origins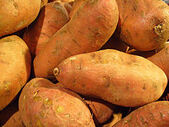 Sweet Potato is based on Ipomoea batatas, known as sweet potato, the tuberous root of the bindweed or morning glory family, Convolvulaceae, that is known for its incredibly sweet taste.
Her name is based on "sweet" because she attracts zombie with her sweetness along with her Almanac entry in Plants vs. Zombies 2, and "sweet potato", the plant Sweet Potato is based on.
History

Sweet Potato's first appearance in the series is in Plants vs. Zombies 2. Where she is a limited addition premium plant tied to the Fall Food Fight Thanksgiving event.
She costs 150 sun, 300 in the Chinese version, and has the ability to attract zombies from adjacent lanes in a 1x3 area in front of her to the lane she is planted in. If all lanes are full of Sweet Potatoes, zombies will not switch between lanes.
She is a member of the Reinforce-mint family, who will activate her Plant Food effect and let her absorb an additional 8,500 DPS while he is on the field. Her Plant Food effect heals her fully (in the Chinese version, she is only healed if she has her costume) and attracts all zombies in a 4x3 area to her.

Sweet Potato reappears in the turn-based mobile card game Plants vs. Zombies Heroes as a Premium Common Root Plant.
She costs 1

to play, has 3

and has the Team-Up trait, which allows an additional plant fighter card to occupy the same lane as her and for her to be played in a lane already occupied by a plant fighter.
When she is played, she moves a selected zombie to the lane she is currently occupying. If there is already a zombie occupying her lane, Sweet Potato will not do anything when played.

Sweet Potato's most recent appearance was in Plants vs. Zombies 3, where she returned as a 3 cost Epic Wall Plant unlocked by the player after beating Floor 14 of Devour Tower.
Like in Plants vs. Zombies 2, she retained her ability of attracting nearby zombies to her own tile. However her attraction range has been extended horizontally by one tile forwards and backwards, and she now has the added ability of unearthing various underground zombies both in her own, and in adjacent lanes.
Her Plant Food effect was called Irresistable and pulled zombies from her lane and adjacent lanes towards her, stunning them in the process while her Tacobility was called Fatal Attraction, and had her explode in a 3x3 area when she was destroyed.

In the merge puzzle game Plants vs. Zombies 2: Guard, Sweet Potato is obtained by merging two Cob Cannons, and serves as the tier 35 plant the player can merge plants into. Sweet Potato attacks zombies by shooting an unknown yellow honeycomb-textured object at them. These projectiles can by aimed by tapping on the screen where the player wants them to be fired. Two Sweet Potatoes can be merged into a Mine Fruit.
In Plants vs. Zombies 2: Garden, Sweet Potato is the fifth plant to be unlocked in the Group Damage line. She has 3 upgrade variations, namely Intermediate Sweet Potato, Advanced Sweet Potato and Princess Sweet Potato.
Gallery
Plants vs. Zombies Wiki
has a
gallery
for Sweet Potato.
Trivia
The brown area on her body appears to be the brown peel of the real life sweet potato.
She is actually only distantly related to the potato family. In New Zealand it is called Kūmara which is the sister plant to the potato. Furthermore, it has a heart-shaped leaf on their primary plant, and hearts come off her when using Plant Food in Plants vs. Zombies 2.
See also
V ·

T

· E

Recurring characters