Raise a Floppa - The Loop
Play Sound



Super Chomper is a conjectural name for this article.
If you know the official name or have a better name or
translation for it, please contact a wiki
administrator
to change it.
Super Chomper (超级大嘴花; pinyin: chāojí dà zuǐhuā) was a premium plant from Plants vs. Zombies: Social Edition. He was able to eat multiple zombies at once.
About
Super Chomper was a premium plant created to advertise a brand of plant lactic acid drink.
He costed 150 sun and was a more powerful version of Chomper. As opposed to only eating one zombie at a time, Super Chomper is able to eat as many zombies as there are in the tile in front of him. He also spent less time on chewing than a normal Chomper.
Almanac entry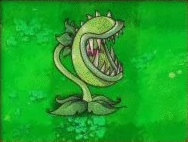 超级大嘴花
超级大嘴花可以吞掉面前所有的僵尸,但
在他们咀嚼的时候很脆弱。
伤害:巨大
范围:非常近,可吞食范围内的全部僵尸
特点: 咀嚼时间短

超级大嘴花曾经是电视节目"超级大胃王"
节目的常客,但后来他被踢出了节目组,
原因是它的存在直接影响到观众的饮食量
和节目收视率。没办法,为了糊口他只得
干起吞食僵尸的行动。
In English: Super Chomper

Super Chompers can swallow all zombies in front of them, but are very fragile when chewing.
Damage: massive
Range: very close, can devour all zombies within range
Special: short chewing time

Super Chomper used to be a frequent competitor on "Super Stomach Kings", but was kicked off the television crew, due to his appearances affecting the viewers' appetites as well as the show ratings. Without a choice, in order to make ends meet he could only make a living by devouring zombies.

Cost:150
Recharge: fast
Gallery
Trivia
His seed packet background is like the upgrade plants' background, however he didn't need to be planted on a Chomper to be used.
He has a larger head than Chomper, which may explain why he can eat more zombies.
He, Future Star, and Calm Chuck are the only plants in Social Edition to be sponsoring a product.

In the case of Super Chomper, he is promoting a Chinese plant lactic acid drink.[1]
See also
References