For the plants in Plants vs. Zombies that the line is based on, see Sunflower and Twin Sunflower.
The Sunlower Line (向日葵系; pinyin: xiàngrìkuí xì) is a Class A Gentle plant line in Plants vs. Zombies: All Stars.
It consists of Sunflower (向日葵; pinyin: xiàngrìkuí), Twin Sunflower (双胞向日葵; pinyin: shuāng bāo xiàngrìkuí), and Triplet Sunflower (三胞向日葵; pinyin: sān bāo tàiyánghuā). They all heal plants and attack by firing beams of sunlight.
Almanac entry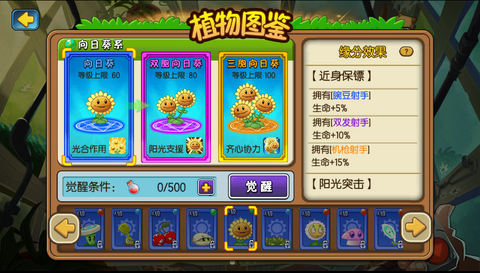 Ways to obtain
Sunflower line is given as a reward for collecting 25 stars in The Great Wall of China. Additional puzzle pieces can be obtained by replaying The Great Wall of China - Day 13, Pirate Seas - Day 23, Dark Ages - Night 3 or Neon Mixtape Tour - Day 3 or through Soulmates Puzzle system.
Abilities
Abilities are unlocked by tiering up, while their effect is increased through star leveling.
Note: 10(+5)% means that at LV1 this ability has a 10% on LV1, 15% on LV2 and so on.
Tier
Effect
Description
1

Photosynthesis
[Active]
Heals all plants. If a plant is shielded, its health will be recovered first.
Additional heal 211(+211).
2

Sunshine Support
[Passive]
At the start of each turn has a chance to give sunshine to a random plant. Sunshine increases damage (for Brave plants) or defense (for Tencaious plants) by 114(+114).
Can't target herself.
3

Teamwork
[Passive]
Photosynthesis has a 10(+5)% chance to heal twice or thrice (at random) as effective.
Star leveling
After unlocking the Sunflower line, additional puzzle pieces can be used to upgrade it, which increases its stats and ability LVs.
Stars
Puzzle Pieces& required
Upgrade
Coins
Stars
Puzzle Pieces& required
Upgrade
Coins
1
0
+258
0k
1
40
+109
100k
2
2
+380
1k
2
40
+519
121k
3
4
Heal+219
4k
3
50
Dodge+720
144k
4
8
+62
9k
4
50
+152
169k
5
15
+292

AbilityLv2

16k
5
60
+695

AbilityLv4

196k
1
15
+75
25k
1
60
+168
225k
2
20
+398
36k
2
70
+846
256k
3
20
Crit+167
49k
3
70
Rigid+345
289k
4
30
+80
64k
4
80
+192
324k
5
30
+90

AbilityLv3

81k
5
80
+1054

AbilityLv5

361k
Soulmates
Sunflower line stats will be increased if these specific plants are unlocked.
Strategies
Sunflower is one of the starter Tier 1 plants and the starter Gentle plant. In the earlier levels, Sunflower is able to hold off a lane pretty well, and can take out zombies as long as there are not too many. However, in later levels, if not upgraded, Sunflower will be much weaker and will have trouble surviving and healing, which is why it is strongly recommended to upgrade Sunflower when you get the chance.
The evolutions are straightforward. In short, they enhance the healing and stats of the Sunflower.
The Sunflower line's active ability heals all allies. This can be useful if many piercing or backstabbing enemies are coming. However, if zombies attack front plants only, single-target heal of Radish can be more useful.
Gallery
General
Sunflower
Twin Sunflower
Triplet Sunflower
Sprites
Trivia
Community content is available under
CC-BY-SA
unless otherwise noted.