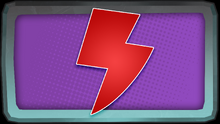 Striking First is an achievement in Plants vs. Zombies: Garden Warfare. To earn it, the player must earn the "First Strike" boast, which is done by being the first person to vanquish a player of the opposing team.
Strategies

One way of earning Striking First is by playing Gardens & Graveyards as the Chomper and waiting around the place where the zombies spawn. Then, when the zombies are let loose, burrow and eat one. You could also do it as the Cactus and plant Potato Mines in front of the zombie's spawn point. This can also be done easily with the Peashooter's Chili Bean Bomb or Sombrero Bean Bomb.
For the Zombies side, there are many options. Foot Soldiers can shoot a ZPG into the body of an unsuspecting plant, which will instantly vanquish them. All-Star can use their Imp Punt in the main fighting area, but be aware that others may steal your First Strike boast during the time it takes to get to the main point of battle.
Community content is available under
CC-BY-SA
unless otherwise noted.