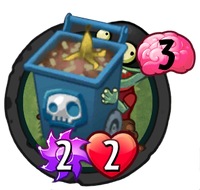 Stealthy Imp is a premium uncommon zombie card in Plants vs. Zombies Heroes, and a member of the

Sneaky class. He costs 3

to play, and has 2

/2

. He has the Gravestone and

Anti-Hero 4 traits, and does not have any abilities. His closest plant counterpart is Poison Ivy.
Statistics
Class: Sneaky
Tribes: Pirate Imp Zombie
Traits: Gravestone, Anti-Hero 4
Abilities: None
Set - Rarity: Premium - Uncommon
Card description
Don't look, but there's one behind you right now!
Update history
Update 1.22.12
▲

Tribe change: Garbage → Pirate
Strategies
With
This zombie can be very dangerous to your opponent for the relatively low cost of 3 brains. He is best played on lanes unoccupied with plants to make use of his

Anti-Hero trait, where he can attack your opponent for 6 damage instead of 2. Cards such as Backyard Bounce, Smoke Bomb, or Pogo Bouncer can help accompany him by either bouncing plants in front of him or moving him onto an empty lane to ensure that he hits your opponent.
As Super Brainz, using him with Carried Away can allow him to do 12 damage to your opponent in one turn, or even 18 if he has already attacked your opponent before Super Brainz blocks and gets the superpower. However, you should only do this if something is blocking Stealthy Imp's way, or if your opponent is at or below 12 health. However, if you are trying to do the latter, make sure that your opponent's Super-Block Meter has more than 4 empty bars, or else they may block one of the attacks.
You can also use this with Toxic Waste Imp and Imp Commander. The former helps make up for its low base strength when there is a plant occupying a lane, and the latter allows you to draw cards while doing massive damage to your opponent if you combine it with any card that can move zombies or Bounce plants.
Since he has the Gravestone trait, you can also make use of Headstone Carver to sightly boost his stats.
As of update 1.22.12, he is now a pirate zombie, meaning he can benefit from Captain Flameface's ability, giving him the

Strikethrough trait. While his

Anti-Hero trait will not activate if there is a plant in his way, Swashbuckler Zombie will at least be able to boost his stats.
Against
While dangerous, this zombie does not pose that much of a threat on his own due to his low stats, as simply playing a plant with 2 or more strength can take him out with no problem. And because of this, your opponent will rarely play him on his own, so expect him to be used in conjunction with Smoke Bomb or Backyard Bounce. In that case, plants with Team-Up can minimize the threat from bouncing tricks, and covering as many lanes as possible will lessen the effectiveness of moving this zombie. If you have no option but to leave a lane uncovered, sacrifice the rightmost lane on the field.
He is now a pirate zombie as well, so it is best to get rid of any Captain Flamefaces and Swashbuckler Zombies on the field. Otherwise, he will become harder to deal with.
Gallery
Plants vs. Zombies Wiki
has a
gallery
for Stealthy Imp.
Trivia