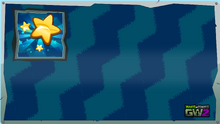 Star Crazy is an achievement in Plants vs. Zombies: Garden Warfare 2. To obtain it, the player must spend their first star.
Strategies
The only hard part about this achievement is earning the actual stars to spend. The only way to earn stars is by completing plant or zombie quests or Epic Quests on the Questboard. Normal quests give the player three stars, while Epic Quests earn the player 10 stars.
The player can spend the stars on anything they choose; cleaning rubble (three or five stars), opening chests (three, five, seven or 200 stars), enchanting gardens or graveyards in Garden Ops or Graveyard Ops (one star), training with the Mysterious Fish (five stars) or unlocking the Crazy Targets Range (five stars).
Trivia
Spending stars to train with the Mysterious Fish will earn the player the What's the Catch? achievement.
See also