Raise a Floppa - The Loop
Play Sound
For other uses, see Squash (disambiguation).
Squash is a single-use Premium plant in Plants vs. Zombies 2. When Squash spots a zombie in an area near him, he will jump up high before smashing the target, dealing 1800 damage per shot worth of damage to any enemy on the tile Squash lands on.
About
For more information about this character, see Squash.
Squash returns as a premium plant available for purchase at $2.99. From August 25th to September 1st, 2015, his price was changed to 159 gems. He was available again with the same amount of gems as before from September 17, 2016, to September 22, 2016. On March 16, 2017, Squash became available for 100 gems permanently.
Squash's detection range has been increased to one tile both forward and backward. In addition to this, he also has a priority of zombies behind him. The unique effect of despawning most defeated enemies did not return.
While he is not given for any levels in any world, he is showcased in some Piñata Parties and has his own epic quest.
Almanac entry
Note: The stats shown below only apply to Level 1.
Squash

SUN COST: 50
RECHARGE: 20

SPECIAL: Zombies Smashed
RANGE: Close

Squashes will smash the first zombie that gets close.

Special: more smashes with higher plant level
Area: all zombies around target

Squash is actually his stage name. His birth name was Tracy.
Squash

SUN COST: 50
RECHARGE: 20
SPECIAL: Zombies Smashed
RANGE: Close
Squashes will smash the first zombie that gets close.
Special: more smashes with higher plant level
Area: all zombies around target

Squash is actually his stage name. His birth name was Tracy.
Chinese version  

(China only)
窝瓜会压扁第一个接近它的僵尸。
用法:一次性使用
区域:目标周围所有僵尸
植物特征:绿色植物
窝瓜只是他的艺名,他的本名叫…小明。

In English:
Squash squashes the first zombie that approaches it.
Usage: single-use
Range: all zombies around target
Plant feature: green plant


Squash is only his stage name, his birth name was...Xiao Ming.
Upgrades
Plant Food effect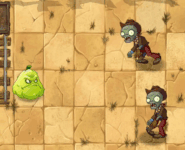 When given Plant Food, Squash smashes two random targets before returning to his original position. The last move is also counted as a smash and will deal damage to enemies on Squash's tile.
In addition, his smash count is reset, allowing him to smash multiple times again if he has been upgraded to do so.
Costumed 

(China only)
Squash now targets three random zombies on the screen instead of two.
Enforce-mint effect
When boosted by Enforce-mint, Squash will squash zombies an additional 3 times and will target an additional 7 groups of zombies with his plant food effect.
Level upgrades
Level
Seed packets
Coins
Upgrades
Sun Cost
Recharge
(Sluggish)
Starting
Recharge
Special
(Zombies Smashed)
Plant Food Power
(Zombies Smashed)
Range
1
0
0
50
20 seconds
15 seconds
One
Two
Close
2
10
1,000
50
19 seconds
14 seconds
Three
3
25
2,500
50
18 seconds
13 seconds
Two
4
50
5,000
50
17 seconds
12 seconds
Four
5
100
10,000
50
15 seconds
11 seconds
6
200
20,000
50
14 seconds
10 seconds
Five
7
400
30,000
25
13 seconds
9 seconds
8
800
50,000
25
12 seconds
8 seconds
Six
9
1,200
75,000
25
11 seconds
7 seconds
Three
10
1,600
100,000
25
10 seconds
5 seconds
Seven
Mastery upgrades
Level upgrade 

(China only)
Level
Upgrades
Description

Jump Training
弹跳训练
Squash gains a 20% chance of staying in the lawn and can attack zombies in longer distances.

Combat Training
战斗训练
Squash gains 50% more attack power and health (150% of initial).

Enhanced Jumping
强化弹跳
Squash gains a 50% chance of staying in the lawn.

Cell Activation
细胞活化
Squash gains another 50% more attack power and health (200% of initial).

Ability Awaken
能力觉醒
Squash may be boosted when planted.

Fighting Power
战斗能力
Squash gains another 50% more attack power and health (250% of initial).
Strategies
Compared to the version in the first game, Squash has been hit with a severe reduction in his usefulness. The increased detection radius is a blessing on paper, but actually a curse in practice, as this means Squash will always prioritize the target behind him regardless of the player's intention. In other words, there will be situations when Squash will target the headless corpse one tile behind him, instead of a more dangerous zombie right next to him and potentially cause the loss of a level (only applies if a zombie is near to the player's house but there are no lawn mowers on a lane or levels with flowers).
Squash also faces great competition for his task, due to the advent of other low cooldown and cheap instant-use plants such as Lava Guava, Primal Potato Mine and Ghost Pepper. Squash is therefore mostly useful against powerful single-threats, as despite his slow recharge he does massive damage on-demand quickly, whereas the other mentioned plants either have low DPS or require some preparation.
His attack is not fire-based, meaning that despite inflicting less damage than incendiary instant kills, he is still practical with ice-based strategies.
At level 3 and above, Squash will be able to squash more zombies. It will squash a zombie, before jumping back to its original position and allowing it to squash again. The return jump counts as an attack and will deal damage to any zombies near it. With this, it is possible to defeat even a Jurassic Gargantuar without letting it throw its Imp by placing a single Squash on top of it - the Squash will attack the Gargantuar, then jump back to its starting position, dealing two hits to the Gargantuar and killing it while the Gargantuar continuously tries to smash it. Even if the first attack hits a zombie behind, the return jump and the following attack will be enough to destroy the Gargantuar.
However, avoid placing Squash in front of the tileless area on Pirate Seas with the water tiles level as this is because there will be a chance that if a zombie happens to land on that area, Squash will sink. The same applies to Big Wave Beach. If Squash attempts to mash a zombie on a water tile, both the squash and the zombie will despawn.
Also, avoid using Squash against Imp Cannon (unless with power up) as the Imp Cannon normally located at the water tile area there and will only release one zombie at a time which is ineffective for Squash due to the fact of it being able to squash it with limited chances. However, as Squash hits all enemies on a tile anyway, if there are many zombies near the cannon, a Squash can be used to destroy everything there.
However, Squash is highly accurate and will not miss his target once locked on, so against lane-switching zombies such as the ZCorp Consultant, he can be extremely effective.
Gallery
Plants vs. Zombies Wiki
has a
gallery
for Squash.
In other languages
Language
Name
Description
English
Squash (Tracy)
Simplified Chinese

窝瓜

(

小明

)
"小明" is a Chinese equivalent of "John".
French
Écraseur
German
Matschkürbis
Italian
Schiacciazombi
Brazilian Portuguese
Esmagadora
Spanish
Apisonaflor
Trivia
See also
References