Not to be confused with Spineapple, a card in Plants vs. Zombies Heroes.
Spinnapple (旋转菠萝; pinyin: xuánzhuǎn bōluó) is the seventh and final plant of Sky City in the Chinese version of Plants vs. Zombies 2. He is the flying equivalent of Wall-nut, and is also capable of reflecting Zombie Fighter's projectiles.
Origins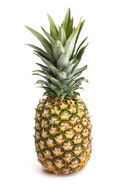 Spinnapple is based on the fruit of the pineapple (Ananas comosus), a tropical plant with edible multiple fruit.
His name comes from "spin", reffering to his spinning leaves and "pineapple", the plant he's based on.
Almanac entry
旋转菠萝

Spinnapple

旋转菠萝可以阻挡僵尸前进, 并通过旋转自身反弹远程子弹。

特点:旋转时可以反弹子弹
植物特征:黄色植物、旋风家族、飞行植物
为了满足飞上天空的梦想,菠萝从小时候看过的动画片中寻得了灵感:他把头上的叶子改造成了竹蜻蜓并希望自己能在天空中自由的翱翔。如我们所见的一样,这个异想天开的点子居然成功了!不过副作用也很明显:他不得不每隔一段时间跟着旋转一下以抵消一部分叶子旋转带来的压力。
旋转菠萝 (Spinnapple)
Sun cost: 75
TOUGHNESS: High
RECHARGE: Sluggish
旋转菠萝可以阻挡僵尸前进, 并通过旋转自身反弹远程子弹。
特点:旋转时可以反弹子弹
植物特征:黄色植物、旋风家族、飞行植物
为了满足飞上天空的梦想,菠萝从小时候看过的动画片中寻得了灵感:他把头上的叶子改造成了竹蜻蜓并希望自己能在天空中自由的翱翔。如我们所见的一样,这个异想天开的点子居然成功了!不过副作用也很明显:他不得不每隔一段时间跟着旋转一下以抵消一部分叶子旋转带来的压力。
In English:

Spinnapple can stop zombies from advancing, and can deflect bullets via self-rotation.

Special: His spin can bounce bullets.

Plant feature: yellow plant, tornado family, flying plant

In order to realize the dream of flying into the sky, Spinnapple found inspiration from the cartoons he saw in his childhood: He transformed the leaves on his head into a copter hoping that he could fly freely in the sky. As we have seen, such a whimsical idea actually worked! But the side effect is obvious: He had to follow the rotation at regular intervals in order to offset part of the leaves' pressure.
Upgrades
Plant Food effect
When fed with Plant Food, Spinnapple spins and collects all the bullets from zombies in 3x1 area. Then, he flings them back at enemies.
Costumed
The reflecting is spread out and hits random zombies.
Level upgrade
Level
Upgrades
Description

Rapid Rotation
Recharge time between rotating is reduced by 20%

Combat Training
Spinnapple gains 50% more attack power and health (150% of initial).

Strengthen Rotation
Recharge time between rotating is reduced by 40%

Cell Activation
Spinnapple gains another 50% more attack power and health (200% of initial).

Ability Awaken
Spinnapple may be boosted when planted.

Fighting Power
Spinnapple gains another 50% more attack power and health (250% of initial).
Strategies
This plant is very useful in Sky City because of his ability to fly and reflect bullets. You should use him the same way as using Wall-nut, but plant him in the sky instead. You can also use him to block Zombie Fighter's bullets to save your other airborne plants. However, using him in other worlds is  not reccomended, as Spinnapple has a slightly higher sun cost than Wall-nut and his Plant Food effect is completely useless when not used against Zombie Fighter except for Spinnapple healing, while Wall-nut's Plant Food doubles his health.
Gallery
Plants vs. Zombies Wiki
has a
gallery
for Spinnapple.
Trivia
He went through a major redesign in version 1.6.2. However, his level up icons and PvP advertisement still show his old design.
Before the 1.6.2. update, he reflected bullets by spinning around. Now, he bounces them back by inflating.
Previously, his Almanac stats were the same as Saucer Squash's, even though they were incorrect.
Spinnapple has three different English names. This trait is shared with Ampthurium, Aspiragus, Board Beans, Cycloque, Lantern Cherry, and Saucer Squash.

Rotating Pineapple is the translation of its Chinese name.
Pineapple is the English name given to it in the Sky City trailer.
Spinnapple is the official name provided by Colorful Wish, an elite player that works closely with PopCap Shanghai to get better contact with international players.

"In order to realize the dream of flying into the sky, Pineapple found inspiration from the cartoons it saw in its childhood," seen in its Almanac entry, hints a Japanese anime which is famous in China—Doraemon.

And as a matter of fact, "bamboo dragonfly" is actually called Hopter in the cartoon. It is one of Doraemon's gadgets that can help people fly in the sky, which Pineapple's leaves are similar to.
See also
Community content is available under
CC-BY-SA
unless otherwise noted.