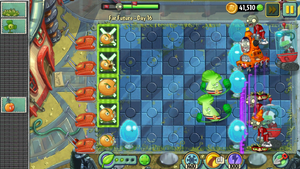 Special Delivery is a Brain Buster in Plants vs. Zombies 2 that appears in all worlds. In these levels, plants are delivered via conveyor-belt, and as such, no sun is given and the plants are pre-selected. Some levels can also include goals for success. In addition to the regular levels, most Piñata Party levels are Special Delivery levels.
Some Special Delivery levels have a hidden mechanic in which only a certain number of one plant can be placed. When that limit is reached, no new copies of that plant will appear on the belt unless at least one plant is removed.
Levels
Plants vs. Zombies 2
*Has one or more additional objectives.