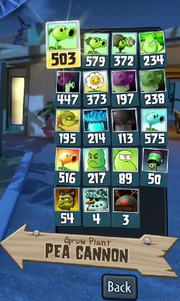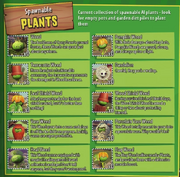 Spawnable Plants (also called Potted Plants) are plants that can be used in Plants vs. Zombies: Garden Warfare. They are neither playable nor revivable, (except for by Crazy Dave in Boss Mode who can revive them with the Revive Rainbow), they are also plantable in Garden Ops, Gardens & Graveyards, and Taco Bandits. Most of them, except the Heal Flower, attack zombies. The Spawnable Plants come in many rarities, the weak ones are usually common or uncommon, while the more useful and more powerful ones have rare or even extremely rare rarity. There is a total of 19 Spawnable Plants.
List of Spawnable Plants
Strategies
Some Spawnable Zombies can overpower all the potted plants. There are also more Spawnable Zombies than Spawnable Plants, and Spawnable Zombies can last for multiple bases (sometimes the entire round) while Spawnable Plants can only last one base (since they and their flower pots disappear when a base is captured), which makes it unfair to the plants. And most zombies focus on destroying plants and take longer to vanquish because of very high health and ability to walk. It can be guaranteed 80% of the time that Coffin and Outhouse Zombies will be more useful than a Doom-shroom despite being less rare than a Doom-shroom. Even Spawnable Zombies outside of Garden Ops will attempt to vanquish potted plants so it is recommended to put Tallnuts around them. But it will sometimes block shooting plants' projectiles, preventing it from shooting zombies, so only use it on certain plants. For shooting plants, you can use Tallnut Battlements to protect them from being eaten by Spawnable Zombies and letting the plant shoot zombies, however this will usually not protect them against playable zombies.
Gallery
Plants vs. Zombies: Garden Warfare
Plants vs. Zombies: Garden Warfare 2
Trivia
All Spawnable Plants make sounds when planted and when vanquished.
When killed with fire or with explosives (like the ZPG or the Imp Punt) most potted plants just wilt, even though they would burned up or been blown to pieces in real life. The flower pot they are placed in is also unaffected, and becomes ready for a plant to plant another Spawnable Plant in a few minutes later.
Snap Dragon loses his vivid glowing red eyes in Garden Warfare 2, being replaced by regular red eyes that do not glow.
In the launch trailer for Garden Warfare 2, you can see a Weed holding a treasure chest.

This Weed never appears in-game.
Community content is available under
CC-BY-SA
unless otherwise noted.