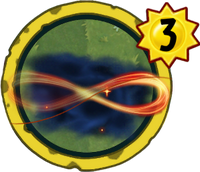 Solar Winds is a galactic super-rare plant environment card in Plants vs. Zombies Heroes, and a member of the

Solar class. It costs 2

to play, and its ability makes a Template:PvZH Link in it at the end of every turn, starting from the turn it is played, unless that lane is either occupied by a zombie or two plants.
Origins
It is based on the real-life definition of solar wind (a stream of charged particles released from the upper atmosphere of the Sun).
Statistics
Class: Solar
Tribe: Environment
Ability: End of Turn: If there are no Zombies here, make a Sunflower here.
Set - Rarity: Galactic - Super-Rare
Description
There's something in the wind. Sunflower seeds, in fact.
Update history
Update 1.16.10
Strategies
With
This is generally a neat way to make a Sunflower at the end of each turn, which acts like Teleport for the plant side. In turn, it makes a free Sunflower at the end without being harmed from the zombie hero, and therefore a guaranteed +1

at the start of each turn until the environment is replaced, or a zombie is in the same lane.
However, keep in mind that this environment only works if there are no zombies in there. Therefore, you must destroy all zombies in it, either with high-strength or instant-kill cards. Fortunately, the Solar class has plenty of instant-kill cards. This also synergizes well with Briar Rose, since it will destroy any zombies that which the Sunflowers that Solar Winds makes, therefore clearing the lane so that the environment can activate its ability.
Against
This environment can almost guarantee an extra 1

for the plant hero at the start of each turn as the Sunflower is made at the end of the previous turn. However, since this is an environment, you can replace with one of your environments to prevent the plant hero from getting extra sun.
As any

Brainy hero, you can make zombies in Solar Winds to prevent that environment from activating its ability, preferably by using tricks such as Beam Me Up or Summoning. You can also play Teleport or have Teleportation Zombie in play to play any zombie during the Zombie Tricks phase.

Sneaky heroes can move zombies to Solar Winds, therefore nullifying the environment's ability.

Hearty heroes can play shielded zombies to nullify a full turn without the risk of that zombie being destroyed in the Fight! phase. However, beware of instant-kill tricks.
Gallery
Trivia
Its original name was "Zen Garden."
Community content is available under
CC-BY-SA
unless otherwise noted.