No Man's Sky Update - The Loop
Play Sound
Solar Sisters are bounty plants in Plants vs. Zombies: Battle for Neighborville. They resemble Sunflowers wearing the "Sunshine Rocketeer" Costume. They can be hunted in Weirding Woods and come in a group of three. Defeating them unlocks the Sun Burned medal.
Origins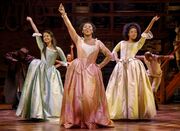 The Solar Sisters come from "solar", referring to Sunflower's sun producing ability. They could also be a reference to the rendition of the Schuyler Sisters from the Broadway musical Hamilton, as the medal for Sun Burned states that they are a tight-knit musical act, and also the fact that there are three of them, much like how there are three Schuyler sisters.
Strategies
Solar Sisters are unique in that they will respawn eight seconds after one of them is defeated, hinted by the "a sister regrows" message when it happens. This makes it a difficult bounty hunt to attempt in single player. It is recommended to have at least three players perform this bounty hunt as each players can try to defeat all three of them at the same time, but not necessary. Beating this bounty alone can be difficult, because you need to defeat them all within a very small time frame. The easiest way to defeat them is to use the Super Brainz, as he is suited for close quarters combat, not to mention that the Sunflowers have a rather weak firepower. Leave a sister with a small amount of health, and go after the next sister without killing any of them. Once all sisters are at low health, vanquish the first one with punches, then use Hyper Jump Thump and Super Ultra Ball to finish the last two sisters off.

Another good way to defeat them is to use the Space Station, then lure them all so that they get closer together. After that, use the Crater Maker and beam them up quickly until all of them die. If the timer for the Crater Maker runs out, quickly dispatch the rest of the Sunflowers with the laser before the others respawn.
Another great zombie to use in this bounty hunt is the Engineer as his Bullhorn Swarm can prevent the Solar Sisters from healing each other and combined with his Heavy Helper, the Engineer can easily wipe out a sister to low HP though beware that the turret may defeat a sister too early and cause them to respawn with full HP. 
Captain Deadbeard can be used to easily take out the sisters, but only when luck is on your side. The sisters will not always run to heal each other, so an easy way to take the bounty is to camp behind the rock the bounty is located near to. Use this rock as cover from the sisters at your left and right. Since the third sister spawns far away from the rock, there is a high chance she will not immediately run towards the others to heal them. A sister can take 5 fully charged shots, or Captain Deadbeard's full clip, before getting vanquished. Shoot the sisters with four fully charged shots each. Reload and quickly shoot them with one fully charged shot to finish them off.
Gallery
Trivia
Prior to the November 2019 patch, this bounty hunt could be exploited to easily farm XP, coins, and marshmallows, but this was later nerfed in an unlisted change which made it inefficient. As of the December 2019 patch, bounty hunt farming has been effectively disabled due to an addition of 15 second cooldown after each bounty hunt attempts.