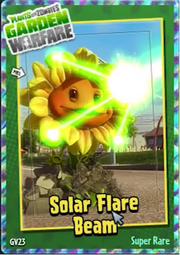 Solar Flare Beam is an alternate ability of Sunbeam. It is more powerful, which deals 10 impact damage and 12 critical damage, but it has half as much ammunition, and it doesn't instantly fire after pressing fire button. It takes 30 seconds to recharge.
Description

The Solar Flare Beam is now the ultimate power in the universe! We suggest you use it.
Pros and Cons
Pros
It deals more damage compare to the normal Sunbeam.
Cons
It only has 50 ammunition and it takes 1 to 2 seconds before firing.
Strategies of this abilities.
Even this weapons can deal more damage, its should only be activated in certain places where enemies won't notice something is coming while trying to do their task (capturing the garden and take out the other plants etc). Be careful, this sunflower ability will alert the zombies to your team's location. When the zombie is holding still without doing anything, immediately shoot at them and you'll get a vanquish easily.
Strategies against this ability
The ways that the zombies can take out sunflowers with an activated offensive ability is that they can use long range weapons like ZPGs and Z-1 assault blasters etc. The sunflower won't have time to react and dismount the offensive ability and the zombies will get a vanquish.
Gallery
Trivia
Even though the icon shows the Sunflower's eyes are glowing, it does not glow in the game itself.
It is a reference to a Death Star from Star Wars movies.