Raise a Floppa - The Loop
Play Sound

Snowy Cotton (棉小雪; pinyin: mián xiǎoxuě) is a plant in the Chinese version of Plants vs. Zombies 2. When a zombie is approaching, she summons snowmen one tile ahead of her that hop towards zombies.
When a snowman hops onto a zombie, it deals 160 damage per shot to the zombie, but the snowman must directly hop on zombies in order to deal damage to them. When upgraded, the snowmen can also slow or freeze zombies.
Puzzle Pieces for this plant were able to be collected through the daily sign-in rewards for Android users in December.
Origins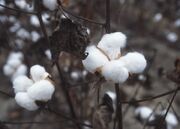 Snowy Cotton is based on Gossypium hirsutum, also known as upland cotton.
Her snowy appearance is based on the natural color of cotton, which is snow white.
Almanac entry
Note: Snowy Cotton deals Moderate damage in-game and has a Fast recharge.
棉小雪

Snowy Cotton

棉小雪可以踩踏攻击前方僵尸。

植物特征:白色植物

作为植物跳远大赛冠军的有力竞争者,棉小雪一直在坚持锻炼,跳着前进成为了她的一个生活习惯,只是,有时候跳得太远也不一定是件好事情……
棉小雪 (Snowy Cotton)
Sun cost: 175
DAMAGE: Normal
RANGE: Lobbed
RECHARGE: Sluggish
棉小雪可以踩踏攻击前方僵尸。
植物特征:白色植物

作为植物跳远大赛冠军的有力竞争者,棉小雪一直在坚持锻炼,跳着前进成为了她的一个生活习惯,只是,有时候跳得太远也不一定是件好事情……
In English:

Snowy Cotton treads on the attacking zombies ahead.

Plant features: white plant

As a strong competitor of the plant long-jump competition, Snowy Cotton is always practicing. Jumping forward has been one of her habits in daily life. However, jumping too far is not always a good thing... 
Upgrades
Plant Food effect
When fed with Plant Food, Snowy Cotton throws her carrot. When the carrot hits the ground it will summon a giant snowman that lands on random zombies doing heavy damage and freezing all of them in a 3x3 area.
Costumed
The giant snowman summoned by her Plant Food ability can now land on zombies twice.
Level upgrade
Level
Upgrades
Description

Frost Shock
冰霜冲击
Snowman's attack has a chance to slow down the zombies.

Combat Training
战斗训练
Snowy Cotton gains 50% more attack power and health (150% of initial).

Chill Atmosphere
冰寒气息
Snowman's attack has a chance to freeze the zombies.

Cell Activation
细胞活化
Snowy Cotton gains another 50% more attack power and health (200% of initial).

Ability Awaken
能力觉醒
Snowy Cotton may be boosted when planted.

Fighting Power
战斗能力
Snowy Cotton gains another 50% more attack power and health (250% of initial).
Strategies
Snowy Cotton appears to be very solid at first; cheap, high damage, and decent firing rate. However, she suffers from a bizarre hitbox that only hits zombies every two tiles. This can be remedied by using two Snow Cottons on a lane and using slowing plants to make it easier for Snow Cottons to hit zombies
Gallery
Plants vs. Zombies Wiki
has a
gallery
for Snowy Cotton.
Trivia
She is the first Christmas themed plant that is Chinese exclusive.
She has the same hat costume as Pomegunate.
She is the first plant to be based on cotton.