For other versions, see Snapdragon (disambiguation).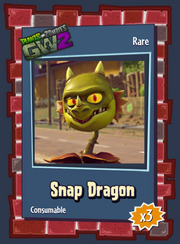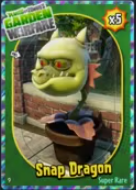 Snap Dragon is a Super Rare and Rare Spawnable Plant in Plants vs. Zombies: Garden Warfare and Plants vs. Zombies: Garden Warfare 2, respectively.. It acts similarly to its attack in Plants vs. Zombies 2, breathing flames, which burn the zombies continuously, similar to the Fire Chomper. Its attack is Flame Breath, which deals seven damage along with the fire effect. Its zombie counterpart is the Mr. Toasty.
Stickerbook descriptions
Plants vs. Zombies: Garden Warfare


Snap Dragon
Unleashes his fiery breath which does additional damage over time.
Cat Dragon
With a such fiery disposition, we're amazed he's able to keep from burning his whiskers.
Plants vs. Zombies: Garden Warfare 2

CLOSE RANGE: FIRE
Unleashes his firey breath which does additional damage over time.
Health
A Snap Dragon has 90 health.
Strategies
It is a good idea to plant this near the garden in Garden Ops because when zombies come close to the garden, the Snap Dragon will breathe fire on them thus distracting the zombies to come after the Snap Dragon instead of the garden. The Snap Dragon will continue to breathe fire even after all zombies in its range have died, so if anymore zombies newly arrive, they get attacked by the Snap Dragon. In Gardens & Graveyards, it is best placed around or near corners so the Snap Dragon can ambush the zombies.
Gallery
Trivia
If the player gets vanquished by it, sometimes the game will say that the player is vanquished with the "Fire Needle," even though it does not shoot Fire Needles. This is a glitch which accidentally uses Fire Cactus' primary weapon as the kill source.

The Centurion has a similar glitch. When vanquished by the zombie's primary weapon, the game may say the player was defeated with the "Flame Pulse" which is Fire Flower's primary weapon.

Coincidentally, all of these characters are fire based.