Small-Nut is a basic common plant card in Plants vs. Zombies Heroes and a member of the

Guardian class.
He costs 1

to play and has 1

/1

. He does not have any traits or abilities.
He is the basic plant of the Guardian class.
Origins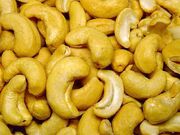 He is based on the seed of the cashew tree (Anacardium occidentale), which is also known as the cashew nut or simply cashew.
His name is a combination of "small," referring to his size, and "nut," the real-life plant he is based on.
Statistics
Class: Guardian
Tribe: Nut Plant
Traits: None
Abilities: None
Set - Rarity: Basic - Common
Card description
A violin virtuoso, Small-Nut began taking lessons when he was still in the shell.
Update history
Update 1.2.11
Added to the game as the basic plant of the Guardian class.
Strategies
With
Small-Nut should be used early-game as a weak shield for early defense, assuming you decide to use him (presumably because you have nothing else to use). He can be used with Mirror-Nut to do direct damage to your opponent while Smackadamia helps improve Small-Nut's durability, although Small-Nut is useless once you do get to play Smackadamia.
However, as you progress throughout the game, you can find better alternatives for this plant such as Forget-Me-Nuts, Potato Mine, Galacta-Cactus, and Garlic, which have better stats as well as an ability. Even as cheap fodder for Evolution, there is no reason to use Small-Nut over the aforementioned plants because unlike him, they have their uses outside of Evolution.
Against
Due to his incredibly weak stats, any damaging zombie or trick can immediately destroy this plant. That being said, letting this plant hurt you can sometimes be a good strategy, seeing how 1 damage can be a good trade-off for letting your Super-Block Meter build up so you can block a stronger hit later on. Instead, focus on more dangerous ones like Mirror-Nut first.
Gallery
In other languages
| Language | Name | Description |
| --- | --- | --- |
| English | Small-Nut | |
| Simplified Chinese | 小坚果 | |
| Traditional Chinese | 小堅果 | |
Trivia
He appears in Mixed Nuts, along with Wall-Nut and a plant with similar appearance to Pismashio. He also uses the same sound effects and projectile (a peanut half) as Mixed Nuts.