For the level before the v1.8 update, see Sky City - Day 5 (Pre-1.8).
Sky City - Day 5 is the fifth level of Sky City in the Chinese version of Plants vs. Zombies 2. After completing this level, the player receives a money bag.
Difficulty
With the introduction of the Transport Boat, this also means the introduction of the Flying Imp Zombie. If not taken care of, it can ruin the offense on the ship and disrupt sun production. Homing plants are recommended.
Waves
The small number next to the zombie icon means that zombie will always appear in that lane, with 1 being the topmost lane and 5 being the bottommost one.
Waves
Non-dynamic zombies
Ambush zombies
Note(s)
1
None
2
None
Carries 1x Plant Food.
3
None
4
None
5
4
None
6
None
First flag.
Carries 1x Plant Food.
7
None
8
4
None
9
5 1
None
Carries 1x Plant Food.
10
1 3
None
11
2 4
None
12
3
None
Final wave.
Carries 1x Plant Food.
Strategies
Difficulty
With leveled up Flying Imp Zombies, that means it can wreck your ship's offense faster. Upgrade your plants so that they can withstand more bites.
Strategies
Zombies again can be at levels 3-4, so bringing leveled up plants is almost a must.
Walkthrough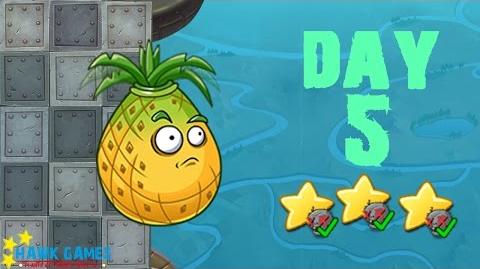 Community content is available under
CC-BY-SA
unless otherwise noted.