For the level before the v1.8 update, see Sky City - Day 23 (Pre-1.8).
Sky City - Day 23 is the 23rd level of Sky City in the Chinese version of Plants vs. Zombies 2. When this level is finished for the first time, the player gets coins.
In normal mode, the player must defeat level 1 zombies.
Difficulty
High-health zombies such as the Zombie Fighter are in this level, and they can be problematic if not taken care of quickly. Imps from the Flying Gargantuars will also be a nuisance. Powerful attacking plants, homing plants, Cycloque, and Spinnapple should be used for an easy victory.
Waves
The small number next to the zombie icon means that zombie will always appear in that lane, with 1 being the topmost lane and 5 being the bottommost one.
Waves
Non-dynamic zombies
Ambush zombies
Note(s)
1
None
2
None
Carries 1x Plant Food.
3
None
4
None
5
3
None
First flag.
6
None
Carries 1x Plant Food.
7
None
8
4
None
9
5 1
None
10
1 3
None
Final wave.
Carries 1x Plant Food.
Strategies
Start off by making sun.
Once you have enough sun, start planting attacking plants.
Plant Spinnapples to deflect Zombie Fighter's bullets.
Plant Cycloque on areas will multiple zombies. While they might be gathered in one tile, the zombies' health will be severely lowered.
In hard mode, the player must defeat level 3-4 zombies.
Difficulty
Level 3-4 zombies in this level are not the ones you want to use your level 1 plants on. Upgrading them is necessary to withstand more of Zombie Fighter's bullets and Flying Imp Zombie's bites.
Strategies
Do what you did in normal mode, but with leveled-up plants.
Walkthrough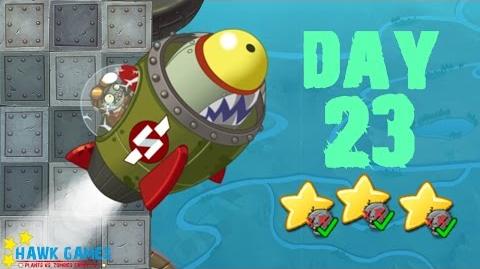 Community content is available under
CC-BY-SA
unless otherwise noted.