For the level before the v1.8 update, see Sky City - Day 18 (Pre-1.8).
Sky City - Day 18 is the 18th level of Sky City in the Chinese version of Plants vs. Zombies 2. It is a Special Delivery level. When this level is finished for the first time, the player gets Lantern Cherry.
In normal mode, the player has to beat the zombies at level 1.
Difficulty
This is a Special Delivery level that properly introduces the Arbiter-X. With low-health plants, as well as not having Spinnapples for protection against Zombie Fighters, the player must resort to using its offensive plants as bullet-fodder. Thunderstorms are also present, with that in mind, Ampthurium's ability is necessary for clearing the status brought from the thunderstorms. Also, always prepare a Lantern Cherry for Arbiter-X.
Waves
The small number next to the zombie icon means that zombie will always appear in that lane, with 1 being the topmost lane and 5 being the bottommost one.
Waves
Non-dynamic zombies
Ambush zombies
Note(s)
1
None
2
3
None
3
None
4
None
Thunderstorm!
5
3
None
First flag.
6
3
None
Thunderstorm!
Carries 1x Plant Food.
7
3
None
8
4
None
9
1 5 4
None
Thunderstorm!
Carries 1x Plant Food.
10
3 4
None
Final wave.
Thunderstorm!
Strategies
Start off by planting plants. If necessary, Rotobagas should to be placed at column 4 onwards.
Use Saucer Squash to stun multiple zombies, preferably with Zombie Fighters.
Lantern Cherries should obviously be planted at columns 6-9, where it is effective the most.
In hard mode, the player has to defeat leveled-up zombies.
Difficulty
Level 3-4 zombies make this level extremely hard. Multiple high-health zombies are present, and they are hard to defeat with level 1 plants. It's best if you upgrade your plants to level 4.
Strategies
The plants you're using are probably at level 4. If so, then use the strategy used at normal mode.
Walkthrough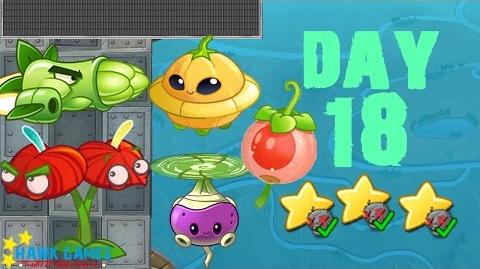 Community content is available under
CC-BY-SA
unless otherwise noted.