For the level before the v1.8 update, see Sky City - Day 11 (Pre-1.8).
Sky City - Day 11 is the eleventh level of Sky City in the Chinese version of Plants vs. Zombies 2. When this level is finished for the first time, the player gets coins.
In normal mode, the player has to beat the zombies at level 1.
Difficulty
This level properly introduces the Lightning Gun Zombie, the zombie embodiment of a thunderbolt. Ampthurium is pre-selected in this level, meaning that it must be used against Lightning Gun Zombies. Other than that, the player should also worry about Zombie Fighter.
Waves
The small number next to the zombie icon means that zombie will always appear in that lane, with 1 being the topmost lane and 5 being the bottommost one.
Waves
Non-dynamic zombies
Ambush zombies
Note(s)
1
None
2
None
3
None
Thunderstorm!
4
None
5
None
Thunderstorm!
6
None
7
None
First flag.
Carries 1x Plant Food.
8
4
None
9
5 1
None
10
3 2
None
11
4
None
Thunderstorm!
12
None
13
None
Thunderstorm!
14
None
Final wave.
Strategies
Plant Ampthuriums on column 2. This is so that your sun producers, as well as some plants on the ship won't get status effects.
Shoveling plants on the sky who are affected by the thunderstorm or by Lightning Gun Zombie is unwise, as they can be used as meatshields to block the Zombie Fighter's bullets.
Cycloques should be used to do heavy damage to zombies.
In hard mode, the player has to defeat leveled-up zombies.
Difficulty
With upgraded zombies, that means the player should upgrade their plants, especially Ampthurium, at max level. The player should also bring upgraded Spinnapples to counter the Zombie Fighter.
Strategies
Do as what you did in normal mode, but with leveled-up plants.
Walkthrough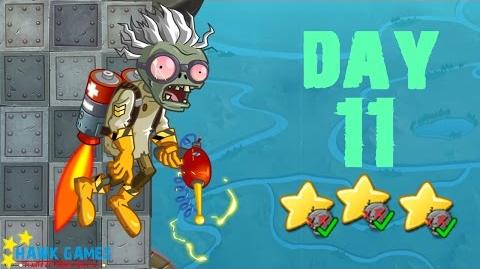 Trivia
Community content is available under
CC-BY-SA
unless otherwise noted.