Fire Emblem Warriors: Three Hopes - The Loop
Play Sound

Ski Zombie is a conjectural name for this article.
If you know the official name or have a better name or
translation for it, please contact a wiki
administrator
to change it.


Ski Zombie (滑雪僵尸; pinyin: huáxuě jiāngshī) is a zombie encountered in Frostbite Caves in the Chinese version of Plants vs. Zombies 2. He uses a Walrus Zombie as a slope to jump past the player's defenses, always arriving at the first column (counted from left to right). He will also ignore slider tiles, like Ice Weasels.
Origins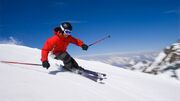 Ski Zombie is based on Skiing, an activity that uses skis to glide through snow. It can be a sport, a recreational activity, or just regular transport.
Almanac entry
滑雪僵尸

Ski Zombie

滑雪僵尸可以从趴下的海象僵尸身上起飞。

滑雪僵尸喜欢挑战和冒险,他非常希望能像小时候看的那些表演者一样,从一个小斜坡上起飞,在空中做出各种复杂动作,然后安然落地。于是在他成年之后,他勇敢地去尝试了——当年的他还是太小了,看不到表演场地前竖着一块牌子:危险动作,切勿模仿……
滑雪僵尸 (Ski Zombie)
TOUGHNESS: Dense
SPEED: Speedy
滑雪僵尸可以从趴下的海象僵尸身上起飞。
滑雪僵尸喜欢挑战和冒险,他非常希望能像小时候看的那些表演者一样,从一个小斜坡上起飞,在空中做出各种复杂动作,然后安然落地。于是在他成年之后,他勇敢地去尝试了——当年的他还是太小了,看不到表演场地前竖着一块牌子:危险动作,切勿模仿……
In English:

Ski Zombie can jump on Walrus Zombie on the ground.

Ski Zombie likes challenges and adventures, and wishes to become like the performers that he saw when he was young, taking off from a small slope, doing all sorts of complex movements, then landing safely. So when he had grown up, he tried -- But he was too young and did not see a sign in front of the stage; "Dangerous act, do not mimic..."
Overview
Ski Zombie absorbs 490 damage per shot and does not degrade.
Strategies
Fortunately, this zombie only appears once Walrus Zombie is dead and acts as a ramp. If you see one of these jumping off, use Blovers as he'll get blown away by it. Note that the zombie can still be damaged as if it were on the ground while in the air, so simply make sure that the lane the dead Walrus Zombie is in has enough offense can make quick work of him.
Balance changes
Update 1.8.0
▲

Will always be hurled into the first column (counted from left to right)
Gallery
Trivia
His hairstyle has a slight resemblance to Chicken Wrangler Zombie's.
He shakes his head once before walking and after skiing.
Before update 1.8, he could be hurled into somewhere between the first and third column (counted from left to right). However, he is now always hurled into the first column.
In the 2019 Chinese New Year event, he could appear without the Walrus Zombie. He would behave the same as without the Walrus Zombie, but he would use his skiing animation instead of his walking animation.
For some reason, Ski Zombie has a beard in-game, but not in promotional arts. This can be proved by look closely on his sprite sheet.