Raise a Floppa - The Loop
Play Sound

For other uses, see Scaredy-shroom (disambiguation).
Scaredy-shroom is a mushroom appearing in Plants vs. Zombies. Normally, Scaredy-shroom performs identically to Peashooter in terms of damage and range but with a quarter of the cost. It hides if a zombie is anywhere around a 3x3 proximity, preventing it from attacking until they are defeated.
Origins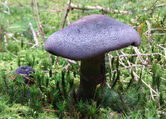 Scaredy-shroom is based on the violet webcap (Cortinarius violaceus), also known as the violet cort, a fungus in the webcap genus Cortinarius native across the Northern Hemisphere.
Scaredy-shroom's name is a combination of "scaredy cat," a term usually used to refer to an easily frightened person, because it gets scared and hides from when zombies are near, and the suffix "-shroom," meaning that it is a mushroom.
Suburban Almanac entry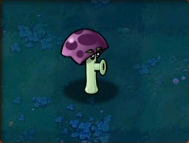 Scaredy-shroom
Scaredy-shrooms are long-ranged
shooters that hide when enemies get near
them.
Damage: normal

Special: stops shooting when enemy is close
Sleeps during the day
"Who's there?" whispers Scaredy-shroom,
voice barely audible. "Go away. I don't
want to see anybody. Unless it's the man
from the circus."
Strategies
In levels without sunlight, Scaredy-shroom will find most of its use as an early to mid-game offensive plant. Its low cost of 25 sun means that the player can rapidly amass firepower early on, while its weakness can easily be mitigated by placing it at the back of the player's defense. This is of great importance to the player's success, as sun is much harder to gather in nighttime levels, so low cost offensive plants will be more important than usual. Its superior range compared to Puff-Shroom also makes it better for early defense. In the later stages, it can be easily replaced by other plants, as it has no splash damage capabilities.
For the Good Morning Achievement, it's better to use Puff-Shroom in the day, however, as they don't cost anything and are easy to plant.
Related achievements
Gallery
Plants vs. Zombies Wiki
has a
gallery
for Scaredy-shroom.
In other languages
| Language | Name | Description |
| --- | --- | --- |
| English | Scaredy-shroom | |
| Simplified Chinese | 胆小菇 | |
| Traditional Chinese | 膽小菇 | |
| French | Champi-peureux | |
| German | Angsthasenpilz | |
| Italian | Porcino tiratore | |
| Japanese | ヒプノシュルーム | |
| Spanish | Seta miedica | |
Trivia
See also