Raise a Floppa - The Loop
Play Sound

"

Those Spring Beans are living on the edge.

"

—Crazy Dave
For the international version of the level, see Pirate Seas - Day 24.
Save Our Seeds II was the second Save Our Seeds level of Pirate Seas in the Chinese version of Plants vs. Zombies 2. In order to complete this level, the player would have to protect three Spring Beans placed at the fifth column. When this level was finished for the first time, the player got a star.
Dialogue
(Crazy Dave appears)
Crazy Dave: Those Spring Beans are living on the edge.
(Penny appears)
Penny: Danger is their middle name.
Penny: Someone should update the Almanac.
(Penny and Crazy Dave leave)
Difficulty
Although this level is not too hard, it becomes very complicated if the player has not chosen the right plants.
The Spring Beans are all placed up to the edge of the player's ship (specifically known as landing points for Swashbuckler Zombies, making them vulnerable to those, Imp Cannons, and Zombie Parrots). They are most likely expected to fall asleep.
Again, as the player did not unlock the Coconut Cannon yet, they may have to choose Bloomerang.
Strategy
Required plants:
Plant a column of Twin Sunflowers. Use Potato Mines and Iceberg Lettuces for the first stage. Be careful of the Swashbuckler Zombie and Seagull Zombie.
During the first zombies, quickly plant Bonk Choys behind the Spring Beans and in plank lanes. Then plant Wall-nuts on plank lanes.
Plant Bloomerangs on the lanes which have Spring Beans to kill the zombies while the Spring Bean is sleeping. Then, continue plant them in plank lanes.
Pirate Captain Zombies may be a threat, but you can easily kill them by the Spring Bean's Plant Food ability, so use Plant Food on sleeping Spring Beans that are being eaten.
Gallery
Walkthroughs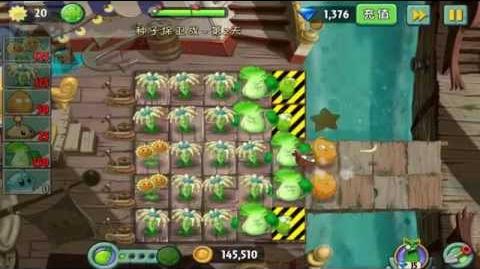 * A gate can be unlocked with a key after completing this level
^ Conjectural name